Revelstoke Classic Revelstoke
October 5th 2019 11:00am - October 6th 2019 2:00am
Course Maps
Beginner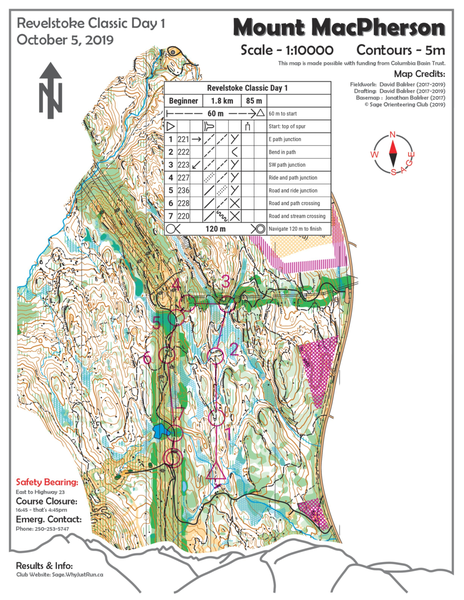 Intermediate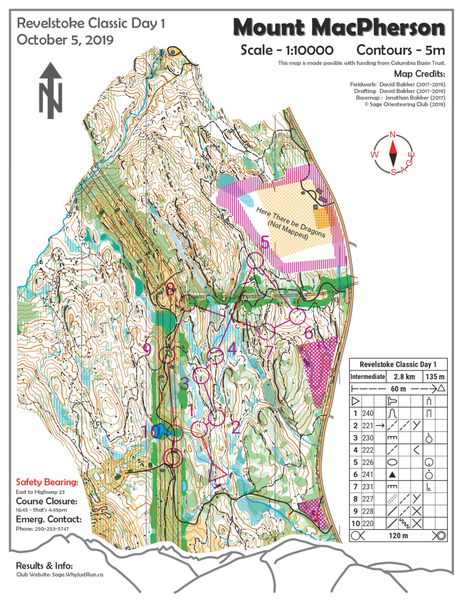 Advanced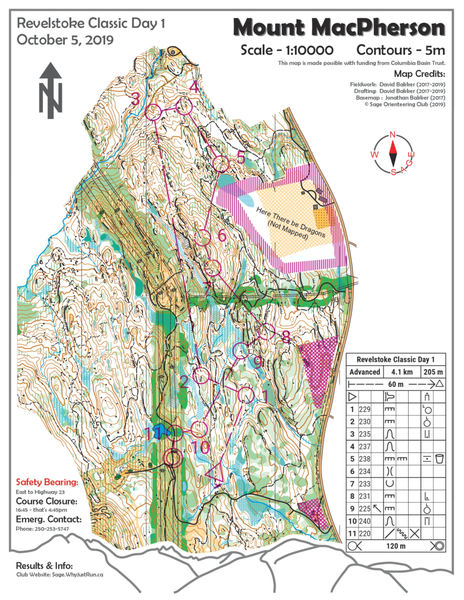 Elite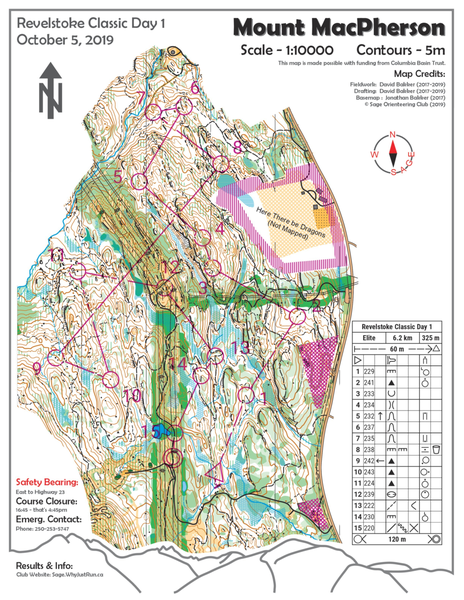 Beginner Day 2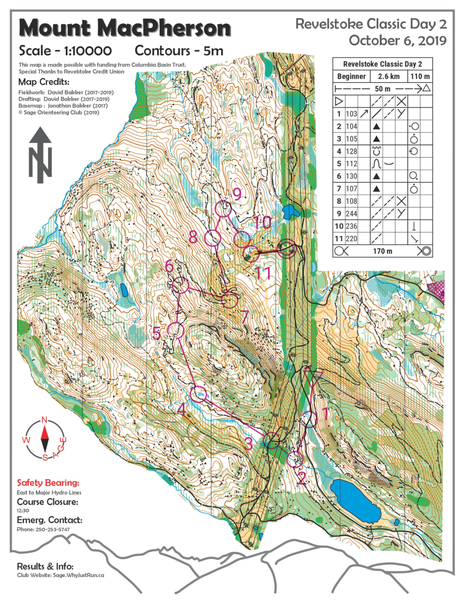 Intermediate Day 2
Advanced Day 2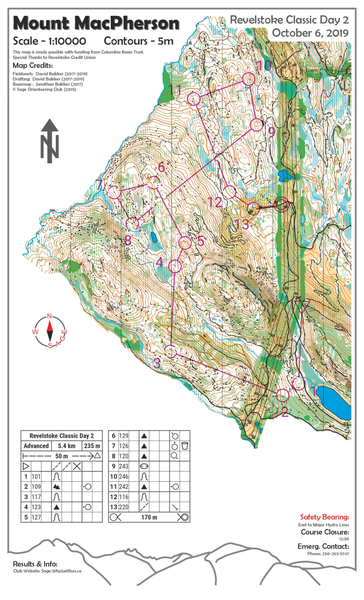 Elite Day 2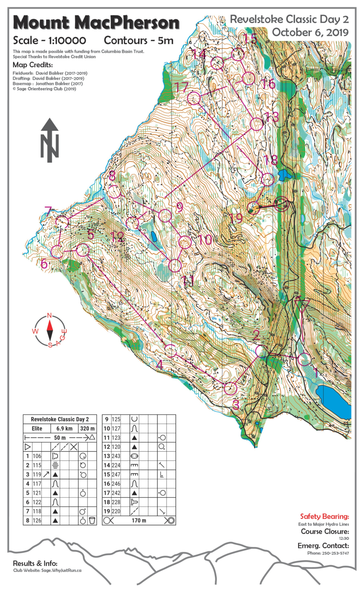 Organizers: Bart Jarmula (Event Director), Bart Jarmula (Course Planner), David Bakker (Course Planner), Alan Vyse (Controller)
Map: Mount Macpherson
Results & Start Lists
Day 1 Results
Maps from Day 1 Are also posted (on the right on desktop, bottom of the page on mobile).
Day 2 Results
Membership
If you are not a member of an orienteering club please fill out the Sage membership form which is available in the link below. We will have paper copies at registration but it is simpler to do online ahead of time. Your membership fee is included in the event fee (there are no additional charges).
https://sage.whyjustrun.ca/pages/153
Oct 4th update
Online registration is closed but we will still have a limited number of maps available for all courses. Please contact Bart through the whyjustrun platform if you are planning to still come.
Map/Course notes - The portion of the map we will be using has a moderate density trail network. Mountain bike trails are quite obvious and mapped using the footpath symbol. Please be aware of mountain bikers while running on the trails - do not stop on blind corners. There are additional trails mapped as small path or less distinct small path which can be much less obvious depending on the amount of traffic they receive.
Interior BC forest is quite rugged with often many obstacles on the forest floor. White forest has excellent visibility but might have slightly slower running than you might expect from say a pine dominant forest. Areas with significant deadfall are mapped however more trees fall down with every windstorm and the map has not been updated to reflect all the potential new deadfall. The majority of the map was made in 2017 with a newer portion used on day one mapped this summer. Given that you will likely be jumping over many logs studded shoes are recommended. Deadfall combined with steep hillsides make travel especially hard - something to consider when making route choices.
Some portions of the map have many rock features. Boulders are often covered in moss - keep this in mind as sometimes even very big boulders can be camouflaged due to their colour. There are also many partially buried boulders which have been mapped using the rock face symbol.
Another feature of an interior forest is devil's club. This plant has thorns on the stalks so avoid grabbing them! Generally it is found in wet areas (marshes, creeks, etc) but you may encounter it randomly in other areas as well. It is fairly easy to avoid but worthwhile to be aware it is out there. The primary wildlife issue to be aware of is black bears. Generally they will stay away from humans however carrying bear spray is certainly a consideration. Grizzly bears would be uncommon (though interestingly there is one hanging around the eastern side of Revelstoke at the moment eating salmon from Bridge Creek).
A powerline bissects the map and will be crossed on both days. Runnability through the undergrowth is variable - read your map. For the most part it is not fast travel so choose your route wisely.
Original Event Details
Join us for a two days of classic forest orienteering in beautiful Revelstoke BC! We are back at the Mount MacPherson map - home of the 2018 BC Orienteering Championships. We have updated and expanded the map so its bigger and better than ever for stunningly scenic, technical, and rugged orienteering. A variety of courses are on offer to suite everyone from the hardcore team Canada singlet wearing orienteering guru who lives on energy gels and the tears of their rivals, to the ten year old out for their first adventure in the woods.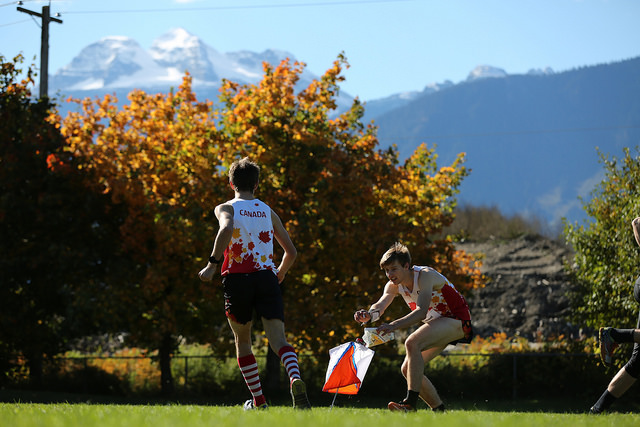 Schedule:
Saturday
Interval Start Shorter Classic Course

There is a 500m walk to start on Day 1, but the finish is immediately adjacent to the parking. Note that this is Revelstoke - so climbs are fairly big and distances have been kept short to compensate. All courses have roughly 5-6% climb.

13:00 - Registration Opens & First Starts (no assigned start times)
14:15 - Last Start
16:45 - Courses Close
Sunday
Chase Start Longer Classic Course

There is a 600m walk to start on Day 2, but the finish is immediately adjacent to the parking.

9:00 - Registration open for those only racing Sunday
9:30 - First Starts (Open start window)
10:00 - Last Start
12:30 - Courses Close
Courses:
All map are using a 5m contour interval and a 1:10000 scale.
Beginner - Technically easy course suitable for newcomers and those on their first couple of times out. Stays almost entirely on trails and is fairly short distance wise. Estimated winning time of 30 minutes on day 1 and 40 minutes on day 2.

Day 1 Distance: 1800m
Day 2 Distance: 2600m

Intermediate - More challenging than the intermediate course but still keeps the navigation fairly simple. Requires significant off-trail navigation. Estimated winning time of 40 minutes on day 1 and 50 minutes on day 2.

Day 1 Distance: 2800m
Day 2 Distance: 4400m

Advanced - Very challenging navigation, but shorter in length than the Elite course. Estimated winning time of 60 minutes on day 1 and 75 minutes on day 2.

Day 1 Distance: 4000m (has one water stop)
Day 2 Distance: 5300m (one water stop)

Elite - Very challenging navigation, extra long distance. Estimated winning time of 60 minutes on day 1 and 80 minutes on day 2.

Day 1 Distance: 6200m (has one water stop)
Day 2 Distance: 7000m (one water stop)
Prices
Adults
Both Days - $15
Single Day - $10
Juniors
Both Days - $10
Single Day - $5
Family (Weekend) Maximum: $50
Cost of membership in Sage Orienteering Club for those not already a member of another orienteering club and use of timing device (SI Chip) included for those who need to borrow. A.K.A. - no hidden fees. For safety reasons you must bring a whistle - if you do not have one they will be available for purchase at registration.
Registration
Please pre-register online using the buttons on the right hand side of this page (at the bottom if you are on mobile). On the day registration is also available, but only a limited number of extra maps will be printed. Please add a comment (that says which day you are doing) when registering if you are only planning on doing one day. Payment is on site with cash or cheque only.
Driving Directions:
See the map below for exact location. From Revelstoke travel south on Highway 23 and turn onto the Tantrum FSR. The turn off for this road is located several hundred meters after the Flowdown parking area. The turn off from the highway will be marked with an orienteering flag. Do not turn into the private driveway located a hundred meters before the FSR (this private driveway is well marked with "do not enter" signs in any case). Follow the FSR for about a km until you are under the powerlines (avoiding a right turn into the private property). The registration area will be at the first road junction that is encountered. This road is in reasonable shape with no major water bars and should be passable by most 2WD cars if you drive carefully to avoid the occasional larger rock or rough section. Should you be concerned about your vehicle's ability to make it up this road please contact the race organizer for alternative access options. Parking will be located along the FSR (there is a good turn around point at the junction).
Accommodation:
There are many accommodation options in and around Revelstoke. Tourism Revelstoke has some great resources to use to find your preferred accommodation:
---
Location