Valleyview - Learn to Orienteer (Week 1) Kamloops
May 3rd 2017 5:30pm
Course Maps
Short
Organizers: David Bakker (Event Director), Jackie Bonn (Assistant)
A few other websites are linking to this page as being the page for the entire series, which is not entirely true. If you head over to our main page, you can see all our upcoming events. Those in green are in Kamloops, and if they are on Wednesdays are beginner friendly. Sorry for any possible confusion. Events run until almost the end of June on Wednesday evenings at 5:30.
---
Thanks to everyone for coming out and trying something new! Results are now posted here, and a few pictures from the event are over here on Facebook.
Next week's event is at McArthur Island. Please go through the sign up instructions over there so that we know which course you would like to be on so we know to print a map for you.
Finally, if you have some friends who might be interested in coming out next week, it is not too late to start coming out. While we will be adding on new skills each week, we are more than happy to give instruction to brand new beginners as well.

---
Welcome to the first night of the Kamloops Learn to Orienteer and weeknight series. This series will teach you all about orienteering starting with the basics, and will gradually work on introducing new skills each week so that by the end of June you are an expert! There will be a separate orienteering course each week for current orienteers. The course is built to be cohesive with each week building on the next, but showing up for just a couple of the events is better for your navigation than none! All our events are outside and active, beginning with a brief skill being taught, followed up by an orienteering course to re-enforce the concept. You can expect to be on and off trails.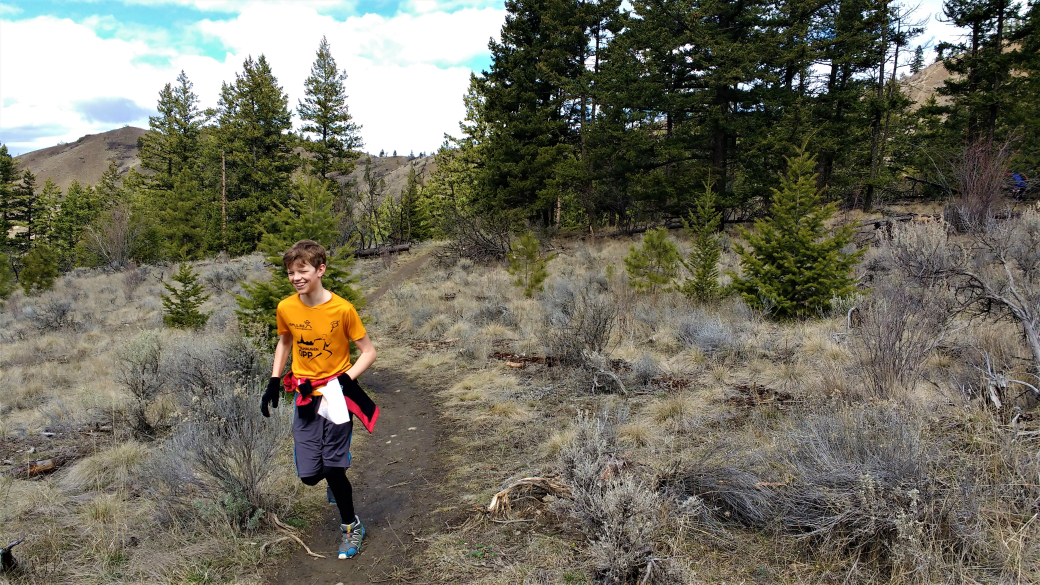 Location:

This event will take place starting at the Valleyview Arena. See the map at the bottom of the page to get driving directions and see the google map location. From downtown Kamloops, travel east along highway 1. Turn right off the highway onto Highland drive and proceed straight through the four way stop. Take your next left into the Valleyview Arena parking lot. We will have a table set up in the parking lot just outside the arena with orange and white flags and a Sage Orienteering Club sign.

Schedule:

Each week will follow about the same schedule with each event lasting about an hour and a half
17:30 - Registration Opens
17:45 - Orienteering Skill of the Week Lesson (Orienteering Course for current orienteers opens)
18:00 - Orienteering Courses Starts (for introduction to orienteering participants)
19:00 - Orienteering Courses Closes
Learn to Orienteer and Kamloops Weeknight Series

Who:

This series of events are for everyone, regardless of fitness or experience. They are designed for families with kids, but are open to everyone. Children under 12 require a parent to participate with them.

We think everyone should try this introduction to orienteering series and especially if you:
Have heard about this unusual sport of orienteering and would like to learn more about it;
Enjoy running or hiking but get a little bored grinding out the miles;
Enjoy maps and thinking on the run;
Don't enjoy maps but want to learn to read them better (5 Reasons Why We Should Still Read Maps);
Are interested in an activity that you can do with your friends or as a whole family;
Love being outdoors or in the woods.
When and Where:

Each will take place in a different city park within city limits and will run on Wednesday evenings starting at 5:30 from the start of May to the middle of June. Check each event page to get the exact meeting location for each week. Doesn't fit you schedule? We also have weekend events where beginners are always welcome! Check out the full schedule for details.

What to Wear and Bring:
Ensure that you have good footwear for running on and off trails with decent grip. Wear something comfortable that you don't mind getting a little dirty! If it's wet outside you might want to consider a change of shoes and socks. A compass is optional. If you have a whistle, please bring one. Wear running clothes suitable for being outside and active and suitable for the weather. Bring something to drink and some snacks for afterwards.
Registration:

Registration is open! Please sign up in this Google form.

For insurance purposes, all participants must be members of the Sage Orienteering Club. Membership gives you access to all Orienteering Canada events across the country, including all Sage Orienteering Club events. A membership form can be found here, or is available at any of our events. To speed things up at registration, please print off the form and bring it with you to your first event. The membership costs are as follows:

Family - $40
Adult - $20
Youth - $10
Program Cost:

Costs per person:

Drop in cost - $5/week (to a maximum of $20/family)
Entire Kamloops Weeknight Series Discount Rate (all 7 weeks) - $30 (to a maximum of $100/family)
Courses:

The following orienteering courses will be available each week:

Short Beginner Course (short distance, easy navigation)
Long Beginner Course (longer distance, easy navigation)
Current Orienteers (longer distance, harder navigation)
Contact Us:

Questions or concerns? Feel free and contact us!
---
Location