Macpherson Classic Plus Revelstoke
October 24th 2021 10:00am - 2:00pm
Course Maps
Intermediate
Advanced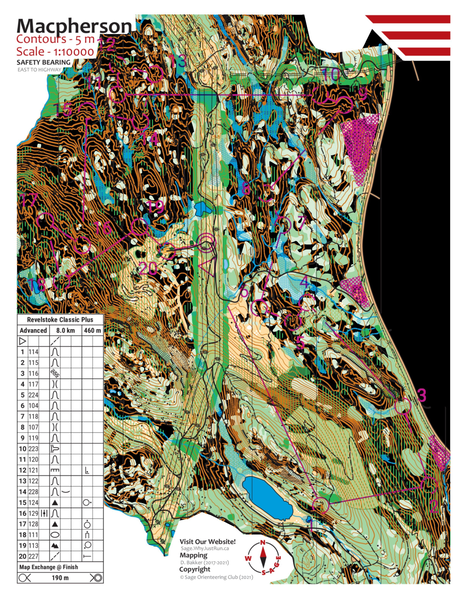 Advanced Long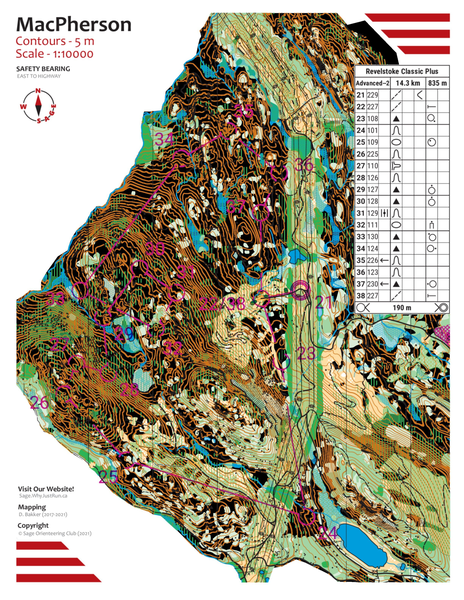 Intermediate Short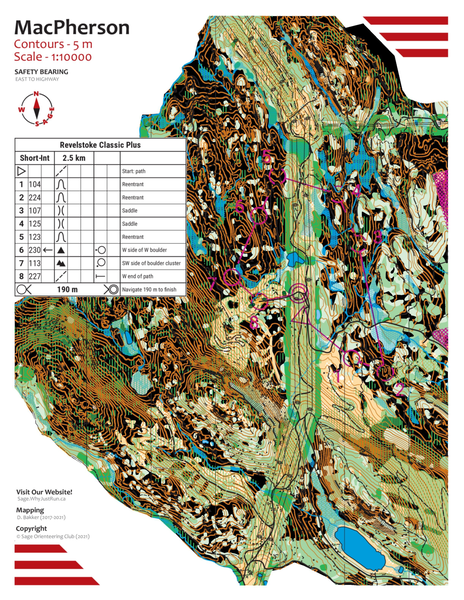 Organizers: Bart Jarmula (Event Director), Bart Jarmula (Course Planner), David Bakker (Assistant)
Map: Mount Macpherson
Welcome back to orienteering in Revelstoke! This will be a point-to-point orienteering event with four different course options to suit varying orienteering and fitness abilities (Intermediate, Intermediate Short, Advanced, and Advanced Long courses offered). Nothing fancy - just running in the woods on a nice map:)
*Please check this page prior to the event for last minute updates or announcements*
Oct 24th: Please bring a map bag if you have one. We have some available as well but re-using them from previous events is preferred.
Oct 23rd: Registration link is closed but there will likely be a couple extra advanced maps, and several intermediate maps available if you show up on the day of the event. Remember that you need to be a Sage member - sign up on zone4 before you come to the event! You will also need to sign a declaration of health the day of the event - please stay home if you are feeling unwell. Given that there are 22 people signed up for the advanced courses, it will take 45 minutes to start everyone (starts will be self-seeded and staggered by 2 minutes). The start is essentially located at registration. If you are planning to run the long course please arrive early as you will have preference for an earlier start. The estimated winning time for a national level orienteer is 2 hours (8 min/km). For those of you running the advanced course (8km) arriving slightly later with a target start time of 10:30-11:30 would be preferred. Intermediate runners can start at any time.
The road to the start/finish has recently been graded which means it is muddier than usual. There are a couple short (5-10m) very muddy sections and about 100m of road which are fairly steep. I have driven up the road successfully in 2wd (but with A/T tires). If you are driving a 2wd vehicle with less aggressive tires an alternate option is to park ~500m from the highway at the first signed mountain bike trail and walk the remainder of the road (500m). There is a small parking area here (2-3 cars) plus enough width on the road to park a few more cars along the road. This option avoids the steepest section of the road and the softest puddle. Please don't block the road if you choose this option (though this is a quiet FSR and rarely sees traffic). If you would prefer to avoid driving on the FSR completely I would suggest parking on Nelson Road (east off the hwy shortly after Flowdown), taking Tantrum Connector (singletrack that starts on the west side of the hwy), left on Tantrum, then right on the FSR at the previously described small parking area. Give yourself 15 minutes to walk the trail/road to the start/finish.
I will reiterate that there are no facilities at the start/finish. Please come prepared if you think you will need to use the bathroom and follow no trace rules. The closest outhouses to the event are located at the Flowdown trailhead (several hundred meters before Tantrum FSR), or the Griffith Creek trailhead (a km or so after Tantrum FSR).
Oct 21: Final course lengths and climbs have been updated. All courses are just below 6% climb so expect a physical challenge. Be prepared with fuel and hydration - resupply is possible at the map exchange. Spikes are helpful as you'll be stepping on logs frequently. Mud is not really an issue and water features are fairly dry with reasonable travel (of course this may change if we get a deluge of rain prior to the event).
Map:
This event will take place on the Mt Macpherson map which was created in 2017-19 by David Bakker. The map showcases beautiful interior temperate rain forest among a moderately dense road and trail network. Unfortunately some of the most interesting sections of this map are slated to be logged in the coming year so this may be your last chance to enjoy this map in its entirety. Much of the ground vegetation is dying as fall settles in which should improve visibility. Expect more deadfall than noted on the map. Major trails are quite obvious (generally they are mountain bike trails). Secondary trails can be quite indistinct due to infrequent use.
Courses:
Travel through the forest is rugged (even in white forest) and all courses almost certainly have elevation gain above typical course setting standards. Keep these things in mind when choosing your course length. Expect classic style course setting - some long legs with multiple route options interspersed with multiple short technical legs.
Intermediate - 6.5km/385m/17 controls. The majority of controls will be located just off trail (usually within 50m) with reasonably obvious attackpoints. Trails can be used to cover the majority of the distance between controls however the fastest route will often short cut through the forest between trails. Difficulty of controls increases slightly towards the end of the end of the course. Being able to use a compass for simple bearings will be helpful. Don't want to cover 7km? No problem as it will be easy to cut out the last few controls if desired (or pick and choose controls like a score-o). This course will offer beginner orienteers a taste of forest orienteering, intermediate orienteers a suitable challenge, and advanced orienteers a good run with a map.
Intermediate Short - 2.5km/8 controls. A much shorter version of the intermediate course that skips some of the more challenging controls. This is the best course if you are a beginner and want to head out for 45-60 minutes.
Advanced - 8km/460m/20 controls. A nice tour of the middle portion of the Macpherson map with some long legs before finishing in the prime terrain west of the power lines. Expect challenging navigation and mandatory off-trail travel.
Advanced Long - 14.3km/835m/37 controls. For those that want to spend a few hours (or more) out in the woods and really savour the western portion of the map as much as possible... once you complete the advanced course you get another map with an extra 6.3km/17 controls worth of orienteering.
Schedule:

Registration Opens: 09:45
First Start: 10:00
Last Start

(we suggest starting much earlier though if you can): 11:30

Courses Close (All participants must report to the finish by this time): 14:00
If you are interested in more orienteering over the weekend check out the Griffith Creek training course that will also be open for use.
Meeting Location:

Parking along the edge of the forest service road underneath the powerlines (same location as Revelstoke Classic from a few years ago). See map pin at bottom of page for exact location.
From Revelstoke travel south on Highway 23 and turn onto the Tantrum FSR. The turn off for this road is located several hundred meters after the Flowdown parking area. The turn off from the highway will be marked with an orienteering flag. Do not turn into the private driveway located a hundred meters before the FSR (this private driveway is well marked with "do not enter" signs in any case). Follow the FSR for about a km until you are under the powerlines (avoiding a right turn into the private property). The registration area will be at the first road junction that is encountered. This road is in reasonable shape with no major water bars and should be passable by most 2WD cars if you drive carefully to avoid the occasional larger rock or rough section. Should you be concerned about your vehicle's ability to make it up this road please contact the race organizer for alternative access options. Parking will be located along the FSR (there is a good turn around point at the junction).This location has no amenties (eg no water, shelter, or toilets). Please come prepared.
Weather:
Guaranteed sunny and warm... ;) Odds are it will be about 7-10 degrees with a decent chance of rain. Could there be snow? Maybe at the higher elevations of the map but pretty unlikely. Come prepared for anything...
Safety:
This is a wilderness course and seeing wildlife is a possibility. Generally bears are getting pretty lazy at this time of year but carrying bear spray is always a safe choice just in case. Moose can also be encountered and should be avoided. As mentioned the terrain is rugged - choose adequate footwear. I'd recommend carrying a phone in case of emergency or injury. Cell coverage is adequate over most of the course. Devil's Club is found in many locations on the map - don't grab the stalks and you'll be fine:)
Registration & Cost:
Online registration is now open. Pre-registration is required so we know how many maps to print - a very limited number of extra maps will be available for people to switch courses if needed on the day.

This event is by donation, with a suggested donation of $10/person to be paid in cash on the day of the event. No change will be available. Note that you need to be a member of an orienteering club to participate (see below). If this is your first in-person orienteering of the year ignore the donation request (you'll be paying a membership fee to attend, so we don't want to charge you double).

Membership:

Membership in the Sage Orienteering Club (or another orienteering club like FWOC or GVOC) is required for insurance reasons. You can sign up here. Signing up for membership needs to be done at home prior to the event!

Event Timing:

Full SI (but not SI Air) will be offered. Free borrowing of SI sticks is available if you don't have your own.

Required Equipment:

You must bring a whistle and carry it with you while out on course. A very limited number of whistles will be available to purchase at registration. A limited number of compasses is also available to borrow for the event.
COVID Safety:
Read through the Orienteering Canada Self-Guided Orienteering Guidelines.
Please stay home if you have any symptoms of COVID-19 or illness.
Please stay home if you have been in close contact with a confirmed or probable case of COVID-19 in the last 14 days.
Stay at least 2 metres away from all other park/wilderness users and do not congregate at the trailheads or control sites.
Sanitize your hands before and after completing the course
---
Location