Ski-O Larch Hills Salmon Arm
December 31st 2017 10:00am - 1:00pm
Course Maps
Intermediate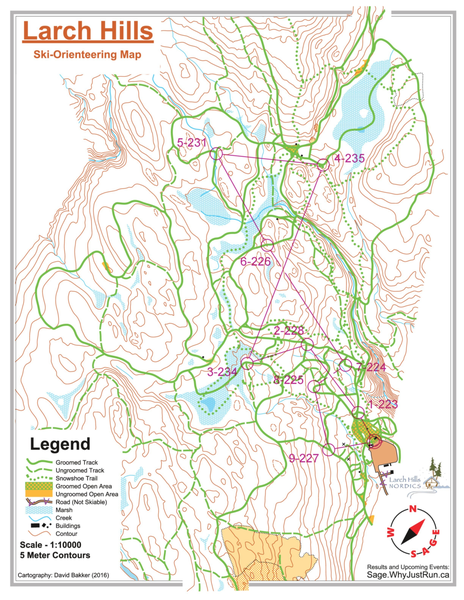 Long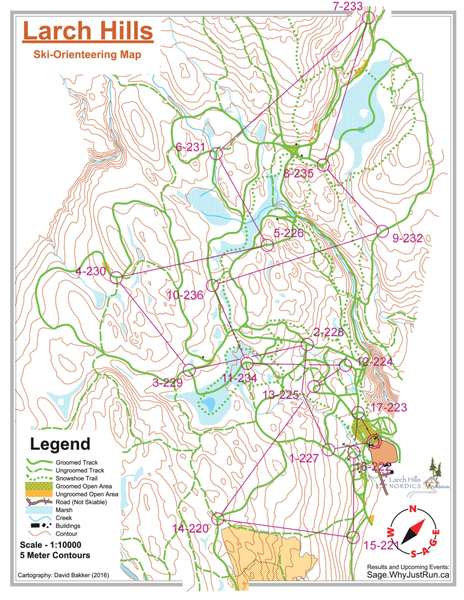 Organizers: David Bakker (Event Director), Abbigail May (Assistant)
Map: Larch Hills Ski-O
Event Report:

Thanks to everyone for braving the cold and coming out!

Results are now posted here: https://attackpoint.org/racesplits.jsp/race_26583

Did you do the long course and have a GPS track of your route? Go here, and click "add route" to add your GPS route to compare with everyone else (with any luck the map has been calibrated properly, but I might have to play around with it a bit...). http://3drerun.worldofo.com/index.php?id=-464257&t...

Unfortunately the map is not co-operating very well (we think it is on their end, not ours after about 1.5 hours of testing...) but you can at least get an idea of the routehoices that other people took, even thought the map isn't perfectly lined up.
See you all next year!
Solution to Leg #10: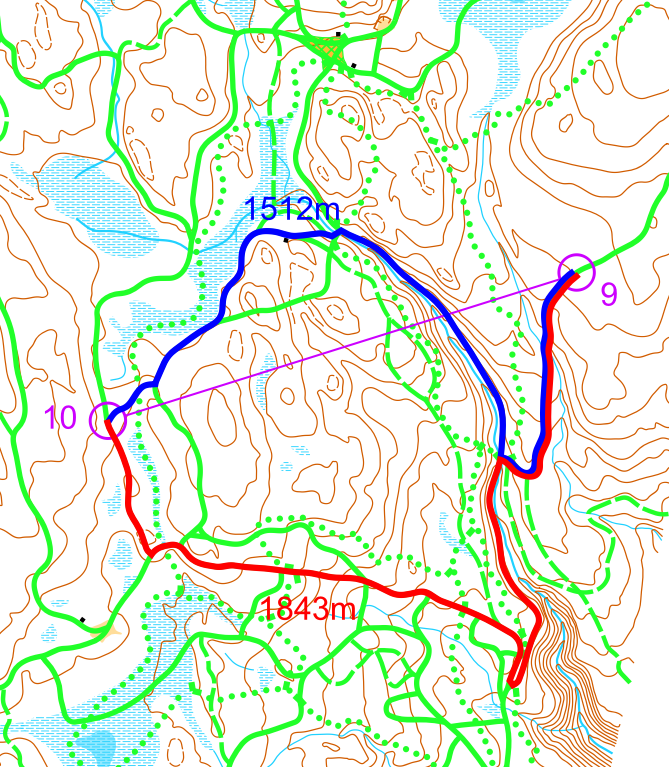 ---
The last event of the year will be a Ski-O at Larch Hills on New Year's Eve!
Description:

This event is going ahead! Come on out and enjoy all the fresh snow up on the hill, and with any luck (and if the weather prediction is true), we might even get some sun! This event is free technique, but consider that it is much harder to use backcountry trails if you are on skate gear. All controls are on groomed trails, and all legs are completable solely on groomed trails, but you are free to use ungroomed back-country trails as you see fit. In several instances back-country trails provide shorter distances, but may not necessarily be faster. You pick your poison. For those of you who orienteer in the summer, no control descriptions will be provided, however control codes will be printed on the map. Bring your own map carrying system, some options found here.

Courses:

These are Ski-O Courses, bear in mind that the distances shown on Sign-Up to the right are straight line distances, even if you make no mistakes you will be going much, much further. Here are the course options, with straight line routes and anticipated fastest route (if you make no navigational mistakes) ski distances.

Short:

This course keeps things nice, short and sweet. A good intro course, it has some routechoice, without being too physically demanding. Has only one major uphill to Bilbo's Bog.
Straight Line Distance: 2.6km
Anticipated Fastest Route Distance: 3.9km
Number of Controls: 8
Intermediate:

Description: Several long Routechoice legs, you won't need to get above the South Hub, and you won't go around the South Loops, but everything in between (except Ermine Frolic Loop) is fair game.
Straight Line Distance: 4.2km
Anticipated Fastest Route Distance: 8.1km (or if you cut through the middle of a bog take about 1km off... but that might be too big of a hint. I'm not sure how open the bog is anymore, but about 7 years ago it was skiable.)
Number of Controls: 9
Long:

Description: Routechoice, Routechoice, Routechoice. Long hard and painful.
Straight Line Distance: 8.7km
Anticipated Fastest Route Distance: The number X, where X > 8.7km. If you want to do this course, you know who you are, and you don't need me to measure it for you. I might suggest skipping your warm-up, unless you really want to win.
Number of Controls: 18
Schedule:

10:00 - Registration Opens and First Starts

10:30 - Last Start

12:00 - Courses close, all participants must report to the finish by this time.

Prices:

You must be a member of Larch Hills Nordic Society, or pay the day use fee (see www.skilarchhills.ca for details) to access the hill. For the Ski-O proper, the prices are as follows.
$5/per person, maximum $15/family
---
Location