Larch Hills Ski-O Map information
Statistics
| | |
| --- | --- |
| Scale | 1:10,000 |
| Map standard | ISSkiOM |
| Events on map | 2 |
---
Notes
PRODUCTION AND REVISIONS:
There are two maps:
- 5 meter contour map that covers the south loops and central trails (.omap) last updated 2016. This is the download button file for this entire map. Layout maps for this map are prepared at 1:5000 and 1:10000 both using this map as a template.
- 10 meter contour map that covers entire trail system (.ocd) last updated 2012.

LAND OWNERSHIP:
1 Small private land section just south of the Chalet, otherwise crown land. Chalet area use requires permission from Larch Hills Nordics. Area is a BC Sites and Trails Recreation site, so requires permission from Front Counter BC.

MAJOR EVENTS:
None.
---
Map image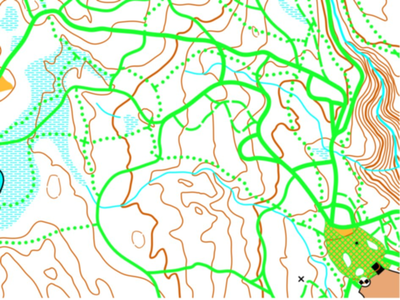 ---
Events on this map
Location