Larch Hills Ski-O Map information
Statistics
| | |
| --- | --- |
| Scale | 1:10,000 |
| Map standard | ISSkiOM |
| Events on map | 3 |
---
Notes
PRODUCTION AND REVISIONS:
There are two maps:
- 5 meter contour map at 1:10000 (layout options also include 1:5000 and 1:10000) that cover the central trails from the north end of Plantation Place south to bottom of Devil's Lunge. Updated in 2019 to the new 2019 Ski-O Standard and to include all new Sprint Trails, and Arwen's Dream, and expanded layout options as well, allowing you to go further south and north (but LiDAR misses the very bottom of the South Loops, as well as everything NE of Catamount Canyon). Produced in Open Orienteering Mapper 0.9.1 by David Bakker. Uses 5m contours hand drawn from LiDAR derived 1m contour basemap.
- Older 10m contour map from 2011 for OCAD 8 that covers the entire trail system - missing some of the newer trails. Send David an email if you want this one, it is not on our NextCloud server.

LAND OWNERSHIP:
1 Small private land section just south of the Chalet (absolute no go in summer, if in partnership with Larch Hills Nordics in winter, is possible), otherwise crown land. Chalet area use requires permission from Larch Hills Nordics. Area is a BC Sites and Trails Recreation site, so requires permission from Front Counter BC.
DATA AGREEMENTS:
MAJOR EVENTS:
None.
SAFETY BEARING:

Safety Bearing: East to Larch Hills Road

CELL PHONE COVERAGE:

Telus/Koodoo/Public Mobile/Bell/Virgin - Patchy - full details from Larch Hills Nordics:
Rogers - Not Tested
UNIQUE SAFETY CONCERNS:

EMERGENCY INFORMATION:

START/PARKING CO-ORDINATES:

Main Chalet: 50.708801, -119.135556
PICTURE TAKEN BY SAGE ON MAP:
None taken yet.
---
Map image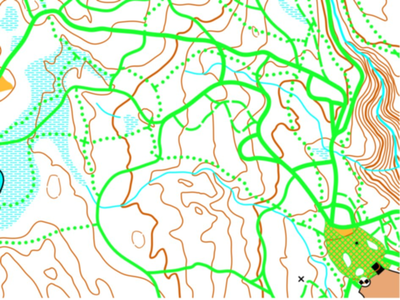 ---
Events on this map
Location