Statistics
| | |
| --- | --- |
| Scale | 1:15,000 |
| Map standard | ISOM2017 |
| Events on map | 1 |
---
Notes
1:15000, 5m contours, computer generated with fieldchecked trails.

PRODUCTION AND REVISIONS:
Created in 2022 by David Bakker. Open Orienteering Mapper 0.9.5 file created at 1:15000.
LAND OWNERSHIP
Crown Provincial land, but in a recreation site. Section 16 authorization from Revelstoke Office of Sites and Trails BC required for in person events, also requires a Letter of Understanding from the Back Country Horsemen of BC - Shuswap Chapter.

The contact person for Back Country Horsemen is Linda - she is awesome. Leanne is the (current as of 2022) campground manager, and should also be kept in the loop, but no Letter of Understanding required.

Two separate recreation sites, one for the trails, and the other for the campground area immediately around the lake:
Portions of the map are private land, but are marked out of bounds.

DATA AGREEMENTS:
None - data generously donated by Forsite Constulting.

MAJOR EVENTS:
None.
SAFETY BEARING:

North or South to Skimikin Lake road (Downhill), depending on the portion of the map.

CELL PHONE COVERAGE:

Telus/Koodoo/Public Mobile/Bell/Virgin - Patchy. Eastern portion has pretty good coverage, with minimal reception around the lake area. Western half of the map has no service, but some pockets of emergency calling only.
Rogers - Not Tested
ECOLOGICAL CONCERNS:

East end of the lake floods out into mud flats during the spring, but should not be used at any time because of its environmental sensitivity.
UNIQUE SAFETY CONCERNS:

Bears live on this map
Creek can be very full in spring
Barbed Wire Fences
Traffic on Skimikin Lake Road
Motorized & Equestrian Trail Users
EMERGENCY INFORMATION:

FINISH/PARKING CO-ORDINATES:

PICTURE TAKEN BY SAGE ON MAP:

None taken yet.

---
Map image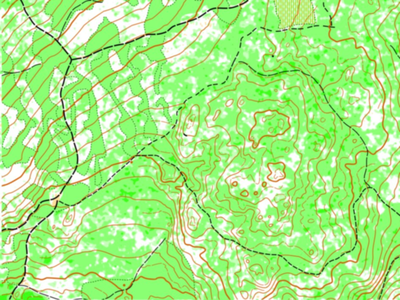 ---
Events on this map
Location