Larch Hills Map information
Statistics
| | |
| --- | --- |
| Scale | 1:10,000 |
| Map standard | ISOM2000 |
| Events on map | 3 |
---
Notes
5 Meter contours hand traced from processed LiDAR.

PRODUCTION AND REVISIONS:
Created in 2016 by David Bakker and Jonathan Bakker. Open Orienteering Mapper file. No Vegetation mapped, but marshes, 5 meter contours, trails are all good. Clearcut boundaries are marked with the vegetation boundary symbol.
LAND OWNERSHIP:
1 Small private land section just south of the Chalet, otherwise crown land. Chalet area use requires permission from Larch Hills Nordics. Area is a BC Sites and Trails Recreation site, so requires permission from Front Counter BC.
MAJOR EVENTS:
None.
-------------------------------
No layout map file (can be made upon request), download file is the file for nearly the entire ski area.
---
Map image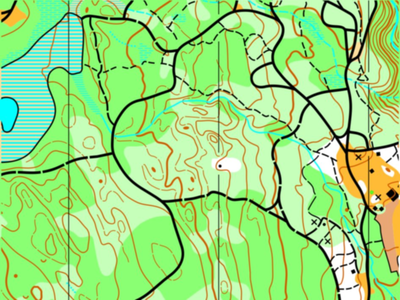 ---
Events on this map
Location