Lower Spion Kop Okanagan
November 7th 2021 10:00am - 2:00pm
Course Maps
Novice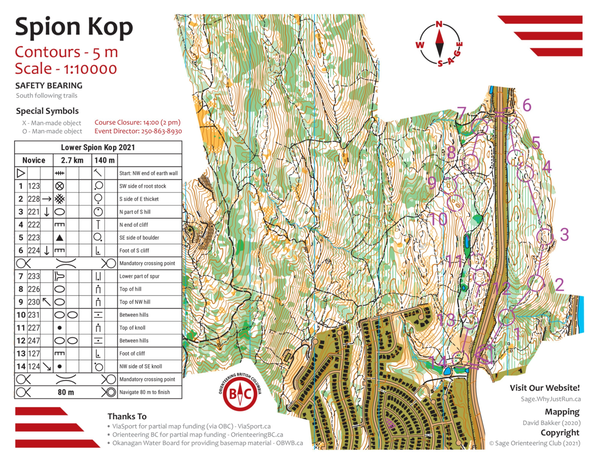 Intermediate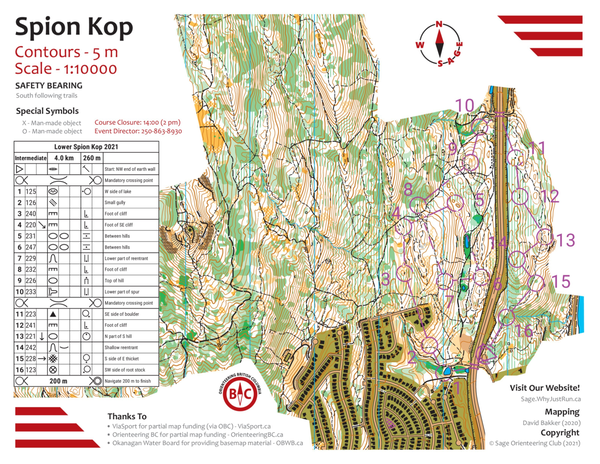 Advanced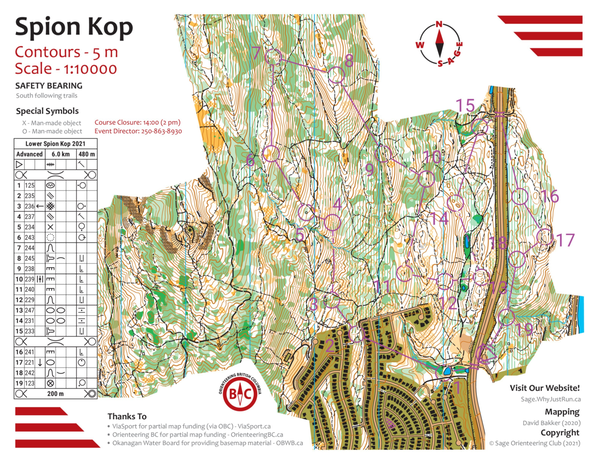 Organizers: Kevin Matrosovs (Event Director), Kevin Matrosovs (Course Planner), Tammy Howe (Assistant)
Map: Spion Kop
Updates
Nov 6: Updated Intermediate course length and climb. Don't forget the time change tomorrow!
Nov 5: Updated links to COVID safety documents. Please bring one copy per participant of the COVID Declaration of Health, signed on Sunday morning.
Nov 4: Updated course lengths and climb. There may still be minor refinements. Course maps will be printed at 1:10,000 scale on standard (not waterproof) paper. Some plastic map bags will be available but, if you have your own, please bring it as it is preferable to reuse map bags.
Overview
In-person Okanagan season finale at Spion Kop. This will be a standard point-to-point orienteering course with 3 or 4 course options to suit a variety of abilities and fitness. Help and guidance will be available to those new to orienteering or anyone with any questions. We will print the maps and have them available when you arrive.
The Novice course has a limited amount climbing. All other courses have significant climbing and descending. This, after all, Spion Kop!

Registration and Cost
Online registration is now open on this page. Pre-registration is required so we know how many maps to print. A very limited number of extra maps will be available for people to switch courses if needed on the day.
This event is by donation, with an optional suggested donation of $5/person to be paid in cash on the day of the event. No change will be available. Note that you need to be a member of an orienteering club to participate (see below).
If this is your first in-person orienteering of the year ignore the donation request (you'll be paying a membership fee to attend, so we don't want to charge you double).
Membership
Membership in the Sage Orienteering Club (or another orienteering club like FWOC or GVOC) is required for insurance reasons. You can sign up here. Signing up for membership needs to be done at home prior to the event!
Location, Parking, and Map
The event parking and start/finish are at the Spion Kop Old Mission Road Trailhead. This is at the top of Old Mission Road, above Pelmewash Parkway on the west side of Wood Lake. See the pin in the map below. Sage Orienteering Club signs will be placed at the intersection of Pelmewash Parkway and Ponderosa Drive and also at Ponderosa Drive and Old Mission Road.
There is a small parking lot at this trailhead. If the parking lot is full, please park on the side of the road leading up to the lot, making sure to park on the side away from the local houses.
There are no facilities at the parking / start / finish. There is a port-a-potty on Pelmewash Parkway at a pull-out parking area south of the Poderosa Drive intersection.

Courses
Courses are still being finalized but are expected to be inline with the following guidelines. There is significant climb on all courses, especially the Advanced course. All course maps are 1:10,000 scale.

Novice (2.7 km, 140 m): Most of the distance can be covered on trails, with controls on features very near trails. For a little extra challenge, there is one slightly longer off-trail section early in the second half.
Intermediate (4.0 km, 260 m): Slightly harder navigation than Novice with more off-trail travel and climb. This course sticks to the lower terrain where the climbs aren't as long and the forest is generally open.
Advanced (6.0 km, 480 m): A lot of climbing (this is Spion Kop!) and off-trail travel, with route choices to run longer on trail. There are a couple of options to drop some controls and cut out a fair amount of distance and climbing.
Schedule
09:45 -- Registration opens
10:00 -- First start
12:00 -- Last start
14:00 -- Courses close -- all participants must report to the finish by this time
Event Timing
Full SI will be offered. Free borrowing of SI sticks is available if you don't have your own.
Required Equipment
You must bring a whistle and carry it with you while out on course. A compass is also highly recommended, and long pants or tights are suggested as all course go off-trail. A very limited number of whistles and compasses are available to borrow for the event.
COVID Safety

Bring one paper copy per participant of the COVID Declaration of Health signed on Sunday morning.
Please stay home if you have any symptoms of COVID-19 or illness.
Please stay home if you have been in close contact with a confirmed or probable case of COVID-19 in the last 14 days.
Only participate in orienteering activities with individuals from your COVID bubble.
Stay at least 2 metres away from all other park/wilderness users and do not congregate at the trailheads or control sites.
---
Location