Sage Stomp XXXVI Salmon Arm
September 18th 2021 9:30am - September 19th 2021 2:00pm

Organizers: David Bakker (Event Director), Brian May (Controller), Kevin Matrosovs (Course Planner), Keeya Corbett (Controller), Alan Corbett (Course Planner), Abbigail May (Assistant), Abbigail May (Permit), David Bakker (Permit), Alan Vyse (Assistant), Jonathan Bakker (Assistant), David Bakker (Course Planner), Alexander Corbett (Assistant), Tammy Howe (Assistant), Jeremy Green (Assistant), Kevin Matrosovs (Controller)
Map: Larch Hills
Saturday and Sunday Split Times on Attackpoint - includes calculated runner speed and error detection.
The GPS Upload button is a co-opted system from our self-directed trainings. Once you upload, it may say that you mispunched, or display an SQL error, but it is ok. It is still saving your GPS tracks correctly, and 3D-ReRuns will be set up sometime next week from the uploaded tracks. We encourage you to upload a GPS track so we can all analyze routechoices from the event.
3D-ReRuns

GPS tracks were not uploaded for Sprint intermediate course, so no 3D-ReRun. Not mobile friendly.

Sprint

Long

Classic
Course Maps (as PDFs) available here.
---
Sage's annual premier event weekend is back for the 36th year in a row, for the first time ever in Salmon Arm! Three (not two!) forest events will be offered, two on Saturday and one on Sunday Morning.
Please note, all event info is subject to change and/or cancellation depending on COVID, the wildfire/air quality situation, super volcano eruptions, etc.
Public health restrictions which were previously imperiling the event were eased/clarified after questions were raised by a multitude of sporting groups in Interior BC. Outdoor sporting events and competitions with up to 100 participants are allowed, and we do not expect this to change before event day. This means that as initially planned, Sage Stomp will be altogether in one event group, and not split like last year, but we will have a registration cap (which we do not expect to get close to) of 90 participants/spectators.
Event Schedule
Instead of pre-assigned start times, large start windows for each event will be offered.
More details will be added to this section as we finish course setting once permits are confirmed. We are planning on offering 5 courses at each race with full SI Air timing. If you want even more orienteering, get in touch with the event director to get access to other maps in the area.
Saturday (Sept 18) Morning - Forest Sprint

Parking Location: 50.708732, -119.135790
Registration Opens at 9:30. Start Window between 10:00 and 10:45.
Organization Team:

Course Planner: David Bakker
Controller: Kevin Matrosovs (Supervised by Brian May as part of O200 training)

Map: Larch Hills Core Sprint Map
Map Status: Brand New ISSprOM2019 (ish) map by David Bakker. Generally very thick, green forest with a dense trail network of various sizes, likely with an artificial maze component.
Saturday Afternoon - Long
Parking Location: 50.708732, -119.135790

Start Window between 12:30 and 13:45.
Organization Team:

Course Planner: Kevin Matrosovs (Supervised by David Bakker as part of O200 training)
Controller: Brian May

Map: Larch Hills
Map Status: Existing ISOM2017-2 map by David Bakker - minimal updates. Generally very thick, green forest with a medium density trail network with rolling topography and water features.
Larch Hills Map Sample

Saturday Evening/Night
No event banquet is offered. Free rustic camping is available in the Larch Hills Nordics stadium. Please indicate when registering on Zone4 if you plan on taking advantage of this so we can plan appropriately.
Sunday (Sept 19th) - Classic
Parking Location: 50.473930, -119.367912

Start window: between 09:30 and 10:45
Planning Team

Course Planner: Alan Corbett (Supervised by David Bakker as part of O200 training)
Controller: Keeya Corbett (Supervised by David Bakker as part of O200 training)

Map: Dirty Beetle
Map Status: Brand New 2021 ISOM2017-2 map by David Bakker. Mostly open douglas fir and pine forest with 10-20 meter positive and negative topography with a medium density trail network.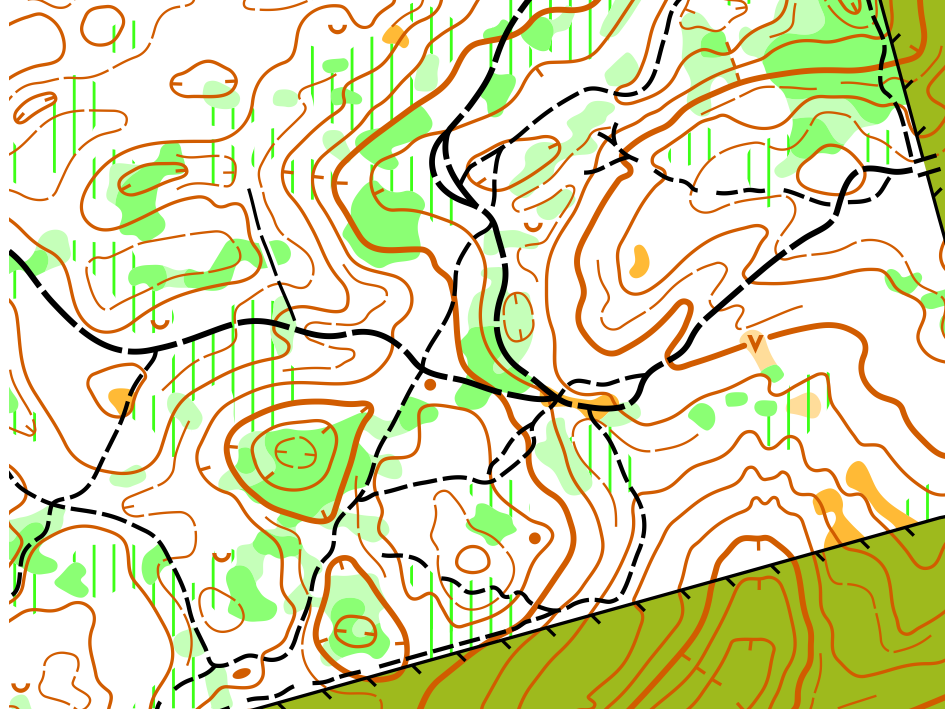 Dirty Beetle Map Sample - now showing the fully fieldchecked version of the map (updated August 28th).
New Orienteers
We event is beginner friendly. We are offering very beginner friendly courses, and will ensure we have someone available at registration to help you with getting started in the sport in a socially distanced manner. Please ensure that you check off that you are new to orienteering when registering, so that we can plan accordingly. We look forward to meeting you!
Registration
Registration is now closed.
Pre-registration is mandatory and will be done online through Zone4. Due to COVID protocols, registration is capped at 90 participants.
Registration is now open! Registration closes on Wednesday September 15th at 23:59.
You can view a list of who is currently registered here.
Costs
We are trying to keep registration costs as reasonable as possible.
Discounts
50% Off Registration Fees for NEW orienteers who are attending their first Sage Stomp.
Family (max 2 Adults and dependant children 20 and under) Maximum of $105.
$2 off if you are bringing your own SI Air card.
Entire Weekend (All Three Races)
Adult (21 and Over): $45
Junior (20 and Under): $15
Single Race

Adult (21 and Over): $20
Junior (20 and Under): $10
Event Timing
Timing will be done with the SI Air timing system, a first for the Sage Orienteering Club and interior BC! SI Air cards will be available to all registrants as part of your registration fee, with a small discount available to individuals bringing their own SI Air card. Participants are also encouraged to carry a Phone/GPS so that we can set up a 3D Re-Run for each course.
Accommodation and Food
Due to COVID, finish line refreshments will not be offered, and water will not be supplied on course. You are encouraged to carry your own water during the event, especially if it is hot out, and have some food and water at your car for afterwards. All finish/arena areas will be in close proximity to parking locations. Water and food will be available from the organizers for emergency situations only.
All events are easily accessible off of paved roads or well maintained gravel roads, and with both venues having either toilets or porta potties available.

Free rustic camping is offered to participants at the Larch Hills Nordic Society stadium on Friday and Saturday nights. Outhouses are available, but other amenities are limited. Alternatively, there are a wide variety of other camp-grounds, B&Bs, and hotels in and around Salmon Arm.

Safety Info
Cell Coverage: All events will occur in areas with cell coverage in the parking/arena locations, although for Larch Hills there will be a few dead spots out on course.
Fire Safety: We will cancel the event or turn it into a training (not competition) only if (a) the air quality is hazardous for humans and/or (b) there is a major risk from a nearby fire.
Wildlife: Bears are commonly in all the map areas, and there may be grazing cattle on the Dirty Beetle map.
COVID Safety: Sage Stomp is not being advertised to out of province participants to comply with Orienteering Canada directives. Interior Health also recommends not travelling into the event area, but at the time of writing there are no governmental restrictions preventing your travel to this event. Participants from the US who legally cross the border (please note there are extensive border restrictions in place right now, but at time of writing it is possible to cross) are allowed to attend and participate, but we Sage is not actively encouraging American participation.
Contact
Have any questions? Feel free and send the event director David Bakker an email at contact AT SageOrienteering.ca
---
Location