Dirty Beetle Map information
Statistics
| | |
| --- | --- |
| Scale | 1:15,000 |
| Map standard | ISOM2017 |
| Events on map | 1 |
---
Notes
5 Meter contours from raw LiDAR basemap.

PRODUCTION AND REVISIONS:
Created in 2021 by David Bakker. Open Orienteering Mapper file created at 1:15000 but best printed at 1:10000 on a letter sized sheet.
LAND OWNERSHIP:
Entirely crown land. Recreations Sites and Trails BC (Revelstoke Office) manages the parking lot, with future plans for entire area to be a numbered Rec Site managed in partnership with the CSRD.

Dirtbikers use the parking area to access trails further up the hill, as well as on the north edge of the map. Equestrians use the trails on the map as well.
DATA AGREEMENTS:
No restrictions (other than to not pass along raw .laz files to other groups) - data generously provided by Forsite consulting.
MAJOR EVENTS:
Sage Stomp 2021
SAFETY BEARING:

Safety Bearing: East to fence.
CELL PHONE COVERAGE:

Telus/Koodoo/Public Mobile/Bell/Virgin - Good (Entire Map, except possibly the very bottom of some of the depressions.
Rogers - Not Tested
UNIQUE SAFETY CONCERNS:

Equestrians
Bears (no bears seen on map yet, but there is bear scat in area). Possible bear den mapped with hidden symbol in map file
Motorbikers
Some old garbage can be found around the map that is potentially hazardous.
Barbed Wire Fences on edge of map
Cows ranging on the land, especially in SE corner of the map
EMERGENCY INFORMATION:

FINISH/PARKING CO-ORDINATES:

50.472524 N, -119.366708 W - just inside the cattleguard.
PICTURE TAKEN BY SAGE ON MAP:

None taken yet.
Map could be expanded north up onto the hillside, currently unexplored area, but basemaps suggest generally boring forest with steep hillside.
---
Map image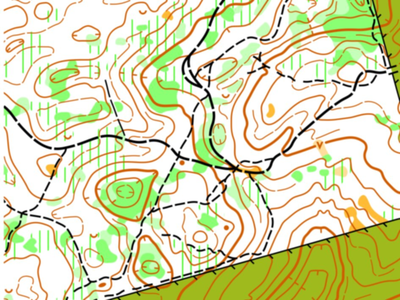 ---
Events on this map
| | |
| --- | --- |
| Dirty Beetle (Self-Directed Training) (SA) | Apr 2, 2022 |
Location