The North Face - Memorial Park Salmon Arm
May 16th 2021 8:00am - May 23rd 2021 6:30pm
Organizers: Abbigail May (Event Director), Abbigail May (Course Planner)
Map: The North Face
Post-Event
Thanks for participating! If you requested a map, please make sure you check-in by uploading a GPS track or sending an email to contact@sageorienteering.ca
---
Overview
Due to COVID, at present, we are not having our usual in person events. Instead, we are setting up trainings that can be completed on your own, at any time during the week. We have checkpoint markers out in the woods, and you request a digital version of the course map(s) as a PDF which you can print out (or keep it on your cellphone) to use.
This event is beginner friendly, and we are happy to help answer any questions you have. Just get in touch!

Registration System
In order to help minimize the number of emails in everyone's inboxes, we have created a new event registration system that will be used at this event. This registration system will be an online form, which upon it's completion will allow the download of this week's course maps as PDF files (it will also send you an email confirmation).
Remember, if you request a map, you must manually check in (by uploading a GPS track or sending an email to contact@sageorienteering.ca) when you are done the event (including the name(s) of all participants(s) and which course(s) they did).
Location, Parking, and Map
This event will take place on the North Face map which has had just a couple of little updates since last year. Large portions of this area will be logged sometime in the next 2 years, so get out on this map while you still can.
Parking is at the (newly expanded to fit another 5 cars!) lot just along 20th Ave SE. See map pin at the bottom of the page. The start and finish are right at the parking.
Trails Vs. Rides in the Terrain and on the Map

It is very important with the advanced and intermediate courses on this map to know the difference between roads, trails, and rides. Here is the definition of a ride from the official ISOM2017-2 mapping standard.
A forest ride or a prominent trace (forestry extraction track, sandy track, ski track) through the terrain which does not have a distinct runnable path along it. Runnability is shown using a slightly thicker line of yellow, green or white as background. Without outline: the same runnability as the surroundings.
In other words, while a trail is far more runnable than its surroundings and has a defined tread on the ground, a ride does not have a defined tread and its runnability is represented by the colour surrounding it on the map. On this map, most of the rides are old forestry tracks that have been cut into the hillside, but now have about 20 year old trees growing on them.

Rides appear on the map as as a thin black line (slightly skinnier than a trail) with longer dashes than trails as shown below with the various runnability definitions around it.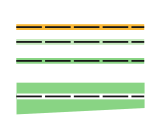 Courses
Controls are marked with either the clothespin streamers used at Little Mountain for controls on trail or visible from trails, or with full sized control flags if they are hidden in the forest.
Beginner (2.0 km): Newcomer friendly course that stays on trails and has easier navigation.
Intermediate (2.3 km): This course stay within the main park, and has a bit more challenging navigation than the beginner course.
Advanced: (3.7 km): Difficult off trail navigation, that heads further up the mountain than the park currently extends. Recommended to carry bear spray with you into this more remote environment
COVID Safety

Read through the Orienteering Canada Self-Guided Orienteering Guidelines.

Please stay home if you have any symptoms of COVID-19 or illness.
Please stay home if you have been in close contact with a confirmed or probable case of COVID-19 in the last 14 days.
Only participate in orienteering activities with individuals from your COVID bubble.
Stay at least 2 metres away from all other park/wilderness users and do not congregate at the trailheads or control sites.
Do not touch the control (checkpoint) flags – just get within 5 metres or so.
Cost
These trainings are being offered as a free mental health service to all Sage Orienteering Club members. Now is a great time to go for a run by yourself or in a very small group following current health guidelines in the beautiful Shuswap nature.
Please Do Not Share Maps
We have recently learned that in some cases course maps have been shared with individuals who are not Sage members. While we love sharing our love of this sport, everyone who participates in a Sage Orienteering Club event (including self-directed trainings) must be a Sage member because in order to satisfy our insurer's conditions. Sage members are not allowed to share course maps with others, or allow participation, by individuals (or groups) who are not Sage members. Any map requests that you make are for yourself, and any other Sage members you name during the registration process. We intentionally keep membership costs low (especially for newcomers) to keep the sport accessible to everyone, so please please please follow the rules.
If maps continue to be distributed in an unauthorized manner, we will be forced to cancel future self-directed trainings.

How it Works

Register your Sage Orienteering Club membership and waiver online (just one combined form this year!).
Fill in the event/training specific registration form, which will ask you which course(s) and members will be participating for the course of your choice and let us know how many of you are going. Everyone participating needs to be a member of Sage for insurance reasons. The registration form will allow you to download the course maps.
Run the course whenever you want during the time when the event is open. If you are interested in comparing results & routes with others (a great learning experience for everyone), record a GPS track on your smartwatch or phone (optional).
Check in with the event organizer (including participant names and courses of everyone in your family) by:


Sending David an email: contact AT sageorienteering DOT ca
Upload a .gpx file (you can export this from Strava, Garmin Connect, Attackpoint, and many others) to our website (link will be posted once registration is open) which will calculate your split times. We will also then overlay all the GPS tracks onto the map together so you can compare routechoices with others. Here are some instructions on how to record and upload your GPS track
---
Location