The North Face Map information
Statistics
| | |
| --- | --- |
| Scale | 1:10,000 |
| Map standard | ISOM2017 |
| Events on map | 3 |
---
Notes
NOTE: (May 12, 2021) - Several planned cutblocks will decimate most of this map in 2023, with road construction in 2022 likely. See more details in this Salmon Arm Observer Article.

---
A larger forest map covering the lower (public land) slopes of Mount Ida, and includes the map areas of both the Shuswap Memorial Park and Silver Slope sprint maps.

PRODUCTION AND REVISIONS:
Created in 2020 by David Bakker in OpenOrienteeringMapper 0.9.2. The Silver Slope (David Bakker, 2017) and Shuswap Memorial Park (Corbett Family, 2018) portions were slightly updated and converted to the ISOM2017-2 standard. The area inbetween was fieldchecked in 2020.

LAND OWNERSHIP:
Crown Land within City of Salmon Arm, except the NW corner next to the cemetary, which is a City of Salmon Arm park.
Shuswap Dirt Riders have trails in this area, and should (but do not needed to be) be notified/collaborated with for any major events to avoid potential conflicts.
DATA AGREEMENTS:

None

MAJOR EVENTS:
None
SAFETY BEARING:

Safety Bearing: North to Auto Road or 20th Ave SE.

CELL PHONE COVERAGE:

Telus/Koodoo/Public Mobile/Bell/Virgin - Very Good.
Rogers - Not Tested
UNIQUE SAFETY CONCERNS:

Wildlife (Bears)
Steep banks with deadfall around Southern Creek
EMERGENCY INFORMATION:

START/PARKING CO-ORDINATES:

South (Silver Slope) Parking: 50.685228, -119.252262
North (Shuswap Memorial Park) Parking: 50.670256, -119.240835
PICTURE TAKEN BY SAGE ON MAP:
None taken yet.
---
Map image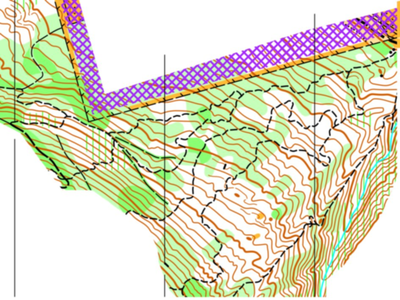 ---
Events on this map
Location