Little Mountain Salmon Arm
May 2nd 2021 8:00am - May 9th 2021 6:30pm
Organizers: Alan Corbett (Event Director), Alan Corbett (Course Planner), David Bakker (Controller)
Map: Little Mountain
Post-Event
Thanks for participating! If you requested a map, please make sure you check-in by uploading a GPS track or sending an email to contact@sageorienteering.ca
Results: All Courses
3D-ReRun - a few people uploaded GPS tracks that include some running to and from the park. You can click on a control to synchronize the start there, but this does not work well at the start because it is the same location as the finish.

Beginner: No tracks uploaded
Advanced - Updated May 16 with an additional track
---
Update (May 1, @17:00 - Registration (new system!) is live. Request and download your maps anytime using the new system. If you have any issues, please email David.
Overview
Due to COVID, at present, we are not having our usual in person events. Instead, we are setting up trainings that can be completed on your own, at any time during the week. We have checkpoint markers out in the woods, and you request a digital version of the course map(s) as a PDF which you can print out (or keep it on your cellphone) to use.
This event is beginner friendly, and we are happy to help answer any questions you have. Just get in touch!

New Registration System
In order to help minimize the number of emails in everyone's inboxes, we have created a new event registration system that will be used at this event. This registration system will be an online form, which upon it's completion will allow the download of this week's course maps as PDF files (it will also send you an email confirmation).
Remember, if you request a map, you must manually check in (by uploading a GPS track or sending an email to contact@sageorienteering.ca) when you are done the event (including the name(s) of all participants(s) and which course(s) they did).
Location, Parking, and Map
This event will take place on the Little Mountain map. Please be respectful and give space to other trail users in this well used park.
The suggested parking location is the main Little Mountain parking lot at the Fieldhouse, but with how close this is to where a lot of people live, consider running there to get a warm-up in! The start/finish location is at the bench overlooking the field, just a couple of hundred meters from the parking lot.
The Little Mountain map has been almost entirely re-mapped with better trail and vegetation mapping, letting us make better use of this park area than previous years.

Courses
Remember that courses are measured in a straight line, you will be running much further (especially in a park like Little Mountain with lots of trails and thick vegetation).
Beginner (2.3 km): A beginner friendly course with easier navigation that stays almost entirely on trails.
Intermediate (2.9 km): We ended up decided to add in an intermediate course as well.
Advanced: (3.5 km): The navigation is a little easier than previous advanced courses (except Park Hill), but still harder than recent intermediate courses. Mistakes are far less costly than previous intermediate courses though, since there is always a trail nearby to help you relocate, and most of the legs have some sort of trail route.
All controls (checkpoints) are marked with a construction of orange flagging tape and a control number tied onto a clothespin (see picture below).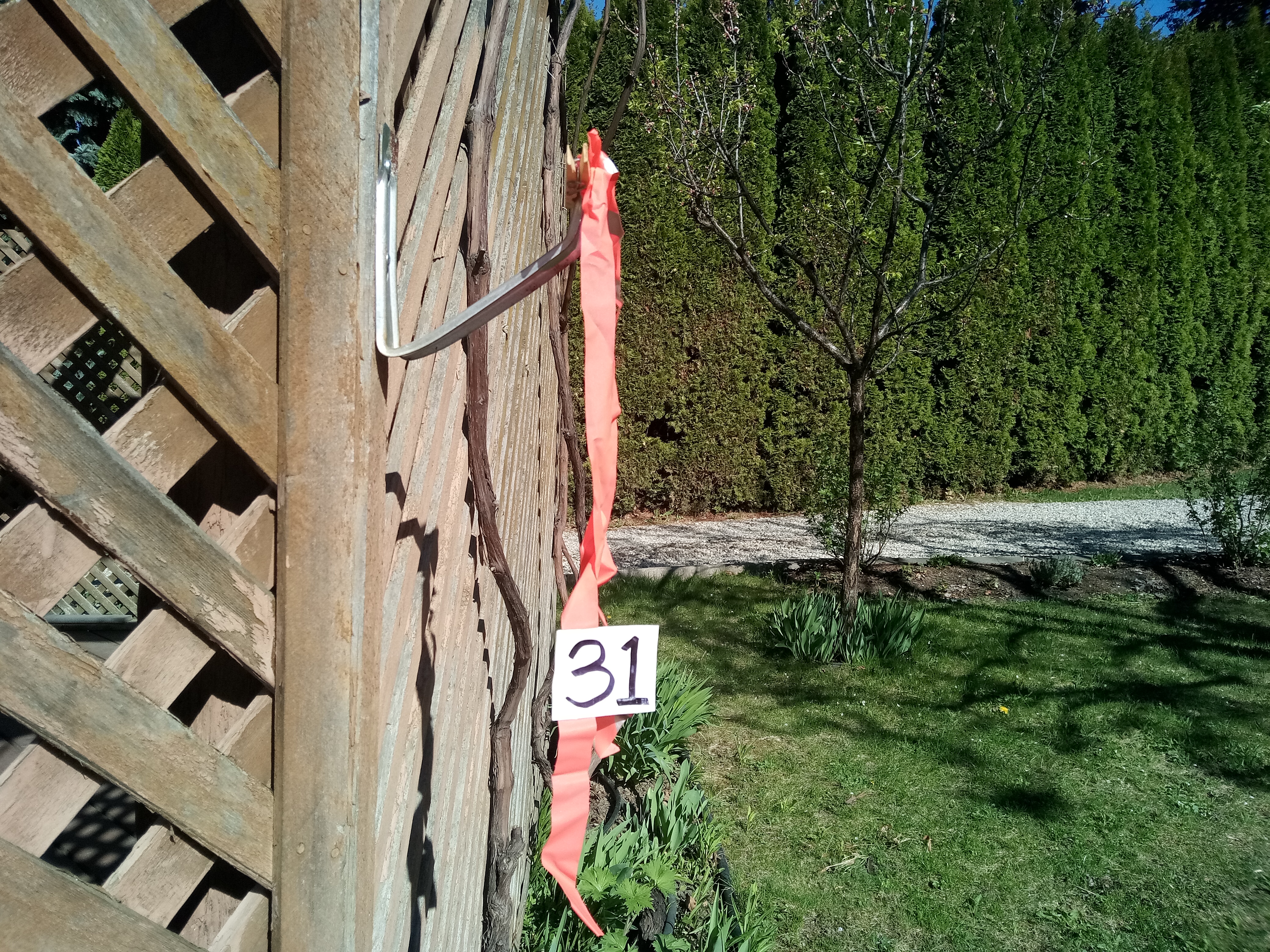 COVID Safety

Read through the Orienteering Canada Self-Guided Orienteering Guidelines.

Please stay home if you have any symptoms of COVID-19 or illness.
Please stay home if you have been in close contact with a confirmed or probable case of COVID-19 in the last 14 days.
Only participate in orienteering activities with individuals from your COVID bubble.
Stay at least 2 metres away from all other park/wilderness users and do not congregate at the trailheads or control sites.
Do not touch the control (checkpoint) flags – just get within 5 metres or so.
Cost
These trainings are being offered as a free mental health service to all Sage Orienteering Club members. Now is a great time to go for a run by yourself or in a very small group following current health guidelines in the beautiful Shuswap nature.
How it Works

Register your Sage Orienteering Club membership and waiver online (just one combined form this year!).
Fill in the event/training specific registration form, which will ask you which course(s) and members will be participating for the course of your choice and let us know how many of you are going. Everyone participating needs to be a member of Sage for insurance reasons. The registration form will allow you to download the course maps.
Run the course whenever you want during the time when the event is open. If you are interested in comparing results & routes with others (a great learning experience for everyone), record a GPS track on your smartwatch or phone (optional).
Check in with the event organizer (including participant names and courses of everyone in your family) by:


Sending David an email: contact AT sageorienteering DOT ca
Upload a .gpx file (you can export this from Strava, Garmin Connect, Attackpoint, and many others) to our website (link will be posted once registration is open) which will calculate your split times. We will also then overlay all the GPS tracks onto the map together so you can compare routechoices with others. Here are some instructions on how to record and upload your GPS track
---
Location