Little Mountain Map information
Statistics
| | |
| --- | --- |
| Scale | 1:5,000 |
| Map standard | ISSprOM |
| Events on map | 10 |
---
Notes
2 Meter contours hand traced from processed LiDAR basemap.

PRODUCTION AND REVISIONS:
Created in OOMapper in 2015 by David Bakker, Jonathan Bakker, and Abbi May. Minor updates in 2017 by Brian May. Almost complete vegetation and trail remap in 2021 by David Bakker, along with some minor contour tweaks as well.
LAND OWNERSHIP:
Entirely City of Salmon Arm park.
DATA AGREEMENTS:

None

MAJOR EVENTS:
None.
SAFETY BEARING:

Safety Bearing: West to 30th St SE.

CELL PHONE COVERAGE:

Telus/Koodoo/Public Mobile/Bell/Virgin - Excellent.
Rogers - Not Tested
UNIQUE SAFETY CONCERNS:

Some Major Cliffs off the West side of Little Mountain
EMERGENCY INFORMATION:

START/PARKING CO-ORDINATES:

Main Parking Lot: 50.697253, -119.248853
PICTURE TAKEN BY SAGE ON MAP:
None taken yet.
---
Map image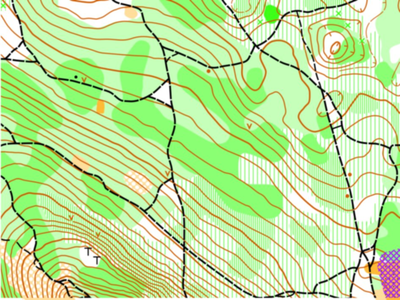 ---
Events on this map
| | |
| --- | --- |
| Salmon Arm - SMS/Little Mt. (SAW) | Jun 8, 2015 |
| Little Mountain (SAT) (SA) | Sep 24, 2015 |
| Little Mountain (SAW) | May 30, 2016 |
| Little Mountain (SA) | May 22, 2017 |
| Little Mountain (SA) | Sep 13, 2018 |
| Little Mountain (SA) | May 2, 2021 |
| Little Mountain (SA) | Oct 10, 2021 |
| Little Mountain (SA) | Oct 30, 2022 |
| Little Mountain Training (SA) | Apr 20, 2023 |
| Little Mountain Self-Directed (SA) | Apr 21, 2023 |
Location