Little Mountain Map information
Statistics
| | |
| --- | --- |
| Scale | 1:5,000 |
| Map standard | ISSOM |
| Events on map | 5 |
---
Notes
2 Meter contours hand traced from processed LiDAR basemap.

PRODUCTION AND REVISIONS:
Initially created by Brian May as an OCAD file. Complete Re-Map and conversion to Open Orienteering Mapper file done in 2015 by David Bakker, Jonathan Bakker, Abbi May. Last updated 2017 by Brian May.
LAND OWNERSHIP:
Entirely City of Salmon Arm park.
MAJOR EVENTS:
None.
SAFETY BEARING:

Safety Bearing: West to 30th St SE.

CELL PHONE COVERAGE:

Telus/Koodoo/Public Mobile/Bell/Virgin - Excellent.
Rogers - Not Tested
UNIQUE SAFETY CONCERNS:

Some Major Cliffs off the West side of Little Mountain
EMERGENCY INFORMATION:

START/PARKING CO-ORDINATES:

Not Filled in Yet

PICTURE TAKEN BY SAGE ON MAP:
None taken yet.
---
Map image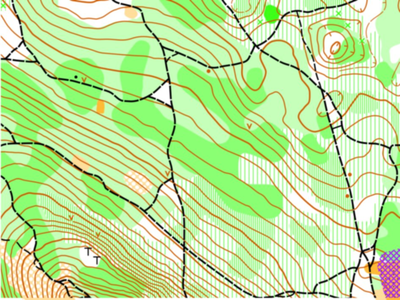 ---
Events on this map
Location