South Canoe Salmon Arm
April 4th 2021 8:00am - April 11th 2021 6:30pm
Organizers: David Bakker (Event Director), David Bakker (Course Planner), Ken Bakker (Assistant)
Map: South Canoe
Post Event
Results Available Here
3D-ReRun - Animated GPS playback along with routechoice analysis. Lots of tutorials available to play around with, but you can also just click play to keep it nice and easy :)

Beginner: Available Here - A few people skipped the finish (two concentric circles). For future reference, even though it doesn't have a control number you still need to go there and stop your GPS at that point!
Intermediate: Available Here - There might be a few more GPS tracks coming for this course.
Advanced: Available Here - Nice work to Jeremy with a tight win! You can synchronize the start (a few people started their GPS a little bit off from it) by clicking on the start triangle.
Thanks for coming out, especially to all the newcomers! Our next training (Coyote Park and South Canoe, depending on which course you are on) starts next Sunday and will again be out for 8 days. If you have yet to upload a GPS track or inform David by email of your attendance or non-attendance at the event, but requested a map, please do so. We need to keep track for insurance purposes.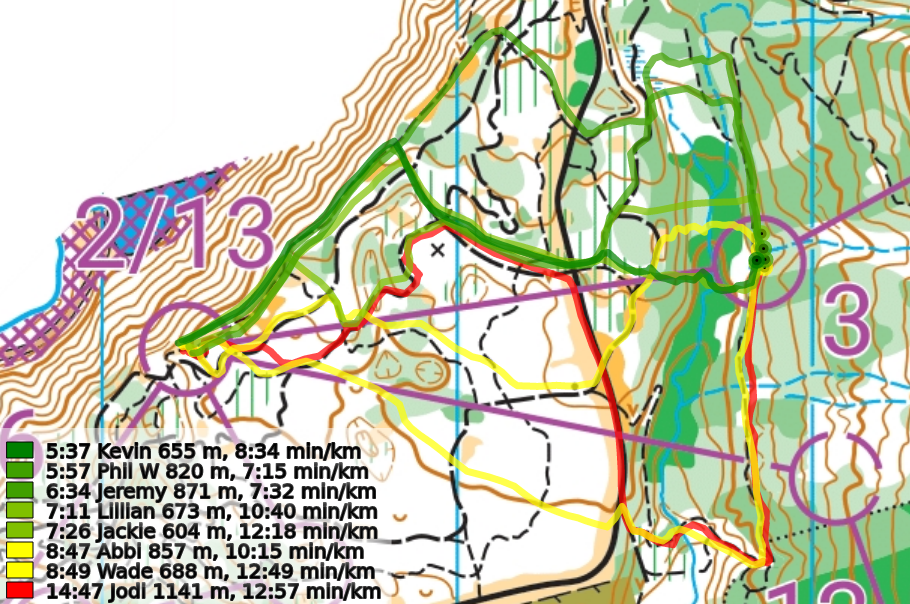 ---
Update (April 6, 2021 @19:15): Control code #40, which was missing for the last 24 hours, has now been put back in its right spot.
Update (April 10, 2021 @13:15): One report that #40 has gone missing again. Now replaced with a different 3D flag as of 14:25. If you find the 2D Orange and White #40 board somewhere, please let us know.

---
Overview
Due to COVID, at present, we are not having our usual in person events. Instead, we are setting up trainings that can be completed on your own, at any time during the week. We have checkpoint markers out in the woods, and individually email out your course maps. You print out the attached PDF to get your own map (or keep it on your cellphone) to use.
This event is beginner friendly, and we are happy to help answer any questions you have. Just get in touch!

Location, Parking, and Map
This event will take place on the South Canoe map, so keep an eye (and ears) out for mountain bikers and equestrians while you are on the trails.
Parking is at the main South Canoe trailhead (see pin on the map at the bottom of the page).
The South Canoe map has been freshly updated to ISOM2017-2 (the newest orienteering map standard for maps of this scale) for this event. We have also done a few piecemeal updates for the selective logging and trail construction that has taken place in the last year.

Courses
Note that the start and finish are in slightly different locations this time, on opposite ends of the parking lot. Remember that course distances are measured in a straight line, so you will likely be traveling much further than the posted distance.
Beginner (1.9 km): This course stays within the Malibu portion of South Canoe and is designed to stay away from the fast downhill mountain biking trails as much as possible to be more kid and beginner friendly. It will still cross them in a few places, and depending on your route choice you may be briefly traveling on them.
Intermediate (2.9 km): This course has some off trail navigation and is only a little bit less technically challenging as last week's "Advanced" course at Park Hill. While there is almost always a trail route, for a few controls there is not.
Advanced (5.1 km): This course is significantly more challenging than our last "Advanced" course at Park Hill with difficult physical and navigational components. We are taking advantage of the light spring vegetation to plan some courses with controls in some atypical places; you might be able to keep your feet dry on this course in the spring runoff.
COVID Safety

Read through the Orienteering Canada Self-Guided Orienteering Guidelines.

Please stay home if you have any symptoms of COVID-19 or illness.
Please stay home if you have been in close contact with a confirmed or probable case of COVID-19 in the last 14 days.
Only participate in orienteering activities with individuals from your COVID-19 bubble.
Stay at least 2 metres away from all other park/wilderness users and do not congregate at the trailheads or control sites.
Do not touch the control(checkpoint) flags – just get within 5 metres or so.
Cost
These trainings are being offered as a free mental health service to all Sage Orienteering Club members. Now is a great time to go for a run by yourself or in a very small group following current health guidelines in the beautiful Shuswap nature.
How it Works

Register your Sage Orienteering Club membership and waiver online (just one combined form this year!).
Send an email to David Bakker to register for the course of your choice and let us know how many of you are going. Everyone participating needs to be a member of Sage for insurance reasons.
Run the course whenever you want during the time when the event is open. If you are interested in comparing results & routes with others (a great learning experience for everyone), record a GPS track on your smartwatch or phone.
(Optional) Upload a .gpx file (you can export this from Strava, Garmin Connect, Attackpoint, and many others) to our website (link will be posted once registration is open) which will calculate your split times. We will also then overlay all the GPS tracks onto the map together so you can compare routechoices with others. Here are some instructions on how to do this.
---
Location