South Canoe Map information
Statistics
| | |
| --- | --- |
| Scale | 1:15,000 |
| Map standard | ISOM2017 |
| Events on map | 14 |
---
Notes
5 Meter contours hand traced from processed LiDAR basemap.

PRODUCTION AND REVISIONS:
Created in 2015-2020 by David Bakker and Phil Wallensteen with Open Orienteering Mapper and expanded in 2017 to the south. Still potential for expansion up the hill into the Schitzos and Buddahs. Geo-referencing a little sketchy, but is pretty easy to add any new trails.
In spring 2021 converted to ISOM2017-2 symbol set and updated to OOMapper version 0.9.4 by David Bakker. Small updates to some selective logging in Malibu also made.

LAND OWNERSHIP:
City of Salmon Arm Park, and crown land.
DATA AGREEMENTS:

None

MAJOR EVENTS:
None.
SAFETY BEARING:

Safety Bearing: East to powerlines.
CELL PHONE COVERAGE:

Telus/Koodoo/Public Mobile/Bell/Virgin - Excellent (all of the map)
Rogers - Not Tested
UNIQUE SAFETY CONCERNS:

Some large cliffs on southern portion of the of map
Bears
Mountain Bikes, Equestrians, and other trail users
EMERGENCY INFORMATION:

FINISH/PARKING CO-ORDINATES:

Main South Canoe Parking Lot: 50.692819 N, 119.204406 W

PICTURE TAKEN BY SAGE ON MAP:
None at present.

---
Map image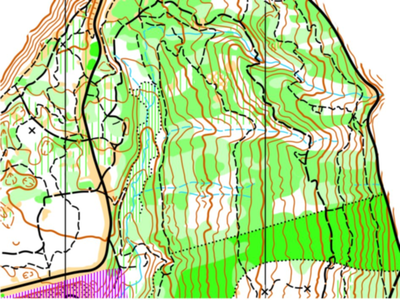 ---
Events on this map
| | |
| --- | --- |
| Sage O-Club Championships | Sep 27, 2015 |
| Salmon Arm - South Canoe (SAW) | Jun 15, 2015 |
| Salmon Arm Finale- South Canoe (SAW) | Jun 22, 2015 |
| South Canoe (SAW) | May 16, 2016 |
| South Canoe (SA) | Apr 29, 2017 |
| South Canoe (SA) | Sep 21, 2017 |
| South Canoe (SA) | May 28, 2018 |
| South Canoe (SA) | Sep 20, 2018 |
| South Canoe (SA) | Sep 12, 2019 |
| South Canoe (SA) | Apr 29, 2020 |
| South Canoe - South Knoll (SA) | Jun 3, 2020 |
| South Canoe (SA) | Apr 4, 2021 |
| South Canoe #2 - Int. & Adv. (SA) | Apr 17, 2021 |
| South Canoe (Cancelled/Postponed) (SA) | Apr 30, 2022 |
Location