Gardom Bench Map information
Statistics
| | |
| --- | --- |
| Scale | 1:15,000 |
| Map standard | ISOM2017 |
| Events on map | 0 |
---
Notes
5 Meter contours, 1:10000 layout, letter sized paper. Map file includes two separate North & South layouts.
PRODUCTION AND REVISIONS:
This is a computer generated map - not fieldchecked! Trails, Roads and Powerlines are hand-traced from Orthos, and Hillshades. Contours, Cliffs, and Vegetation solely computer generated.

Made using Karttapullautin & Terje's scripts from 2018 High Density LiDAR (thinned 50%) provided by the Okanagan Water Board and thus falls under our signed data sharing agreement with the OBWB. Contact David if you have questions on the unique terms of use for this map.

David Bakker (2020) in Open Orienteering Mapper 0.9.2.
LAND OWNERSHIP:
Crown provincial land. Borders a section owned by the Legion on the north-east, Gardom Lake Bible camp on the North West (has a separate, not to standard old map that needs updating), and several private parcels on all remaining sides. Map is almost all in the CSRD, but small portion on the eastern side is in the RDNO. Not a numbered rec site, not a park.
DATA AGREEMENTS:

Okanagan Basin Water Board Data Use Agreement

MAJOR EVENTS:
None.
SAFETY BEARING:

Safety Bearing: East to road under powerlines.
CELL PHONE COVERAGE:

Telus/Koodoo/Public Mobile/Bell/Virgin - Good (most or all of the map, some sections not tested)
Rogers - Not Tested
UNIQUE SAFETY CONCERNS:

One large cliff on west edge of map
Bears
Barbed Wire Fences - including old rotting out fences through the map area.
EMERGENCY INFORMATION:

PARKING CO-ORDINATES:

Northern Layout: parking at end of Glenmarry Road: 50.603856 N, 119.181601 W
Southern Layout: parking at end of Grange Road: 50.579772 N, 119.193379 W
PICTURE TAKEN BY SAGE ON MAP:
---
Map image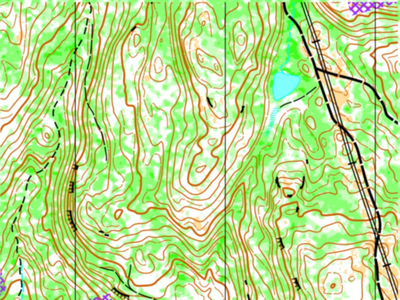 ---
Location