Okanagan College Kelowna Campus Map information
Statistics
| | |
| --- | --- |
| Scale | 1:4,000 |
| Map standard | ISSprOM |
| Events on map | 0 |
---
Notes
1:4000; 2 m contours
Map file includes layout that is set up for 1/2 letter.

PRODUCTION AND REVISIONS:

City of Kelowna basemap using slightly modified hand traced contours of LiDAR origin. Produced in 2018 by David Bakker in Open Orienteering Mapper 0.8.1.
There is a new building on campus that is not yet mapped - map must be updated before using it again.

LAND OWNERS:

Okanagan College - security present on Campus. Need to get permission to use the grounds.
DATA AGREEMENTS:

Kelowna Open Government Licence - We are require to print the text "Contains information licensed under the Open Government Licence –City of Kelowna." on the map.
MAJOR EVENTS:

2018 Okanagan Adventure Running Tournament
SAFETY BEARING:

Safety Bearing: South to K.L.O. Road.

CELL PHONE COVERAGE:

Telus/Koodoo/Public Mobile/Bell/Virgin - Excellent (entire map multiple bars)
Rogers - Not Tested
UNIQUE SAFETY CONCERNS:

Vehicle & Pedestrian Traffic
EMERGENCY INFORMATION:

Nearest Hospital: Kelowna General Hospital (~5 minutes)
Central Okanagan Search And Rescue: Call 911
RCMP: Call 911
START/PARKING CO-ORDINATES:

Various parking lots, so not set co-ordinates added here.

PICTURE TAKEN BY SAGE ON MAP:
None taken yet.
---
Map image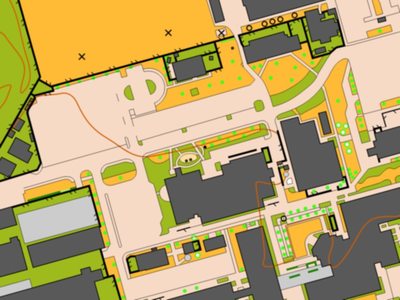 ---
Location