Haines Creek Map information
Statistics
| | |
| --- | --- |
| Scale | 1:15,000 |
| Map standard | ISOM2017 |
| Events on map | 4 |
---
Notes
5 Meter contours from raw LiDAR basemap.

PRODUCTION AND REVISIONS:
Created in 2017 by David Bakker. Open Orienteering Mapper file created at 1:15000 but best printed at 1:10000 on a letter sized sheet.
LAND OWNERSHIP:
About half the map likely to be logged in the next 2 years (August 2020) - flagging tape for planned areas is already out in the woods.

Entirely crown land. No permissions requires, but lots of dirtbikers use the area. Best to contact Dirt Biking club about event dates to avoid heavy dirtbiking use: http://shuswapdirtriders.com/

DATA AGREEMENTS:
None

MAJOR EVENTS:
None.
SAFETY BEARING:

Safety Bearing: West (Downhill) to fence - go further west to private farmland in valley bottom if very lost.
CELL PHONE COVERAGE:

Telus/Koodoo/Public Mobile/Bell/Virgin - Good (Entire Map, except possibly small portion of upper alluvial fan)
Rogers - Not Tested
UNIQUE SAFETY CONCERNS:

Tall Cliffs around Creek on edge of map
Bears (no evidence of bears on map (e.g. scat), but is potential bear habitat)
Motorbikers
Creek can be very full in spring - avoid course setting across creek except at bridges in spring
Barbed Wire Fences
EMERGENCY INFORMATION:

FINISH/PARKING CO-ORDINATES:

50.564192°N, -119.346438°W
PICTURE TAKEN BY SAGE ON MAP:

-------------------------------
Map could be expanded onto the bench South of the Creek, currently unexplored area.
---
Map image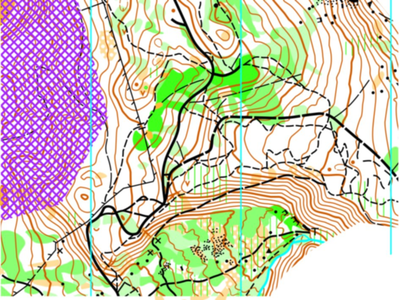 ---
Events on this map
Location