Coyote Park Map information
Statistics
| | |
| --- | --- |
| Scale | 1:4,000 |
| Map standard | ISSprOM |
| Events on map | 4 |
---
Notes
Very small park in northern Salmon Arm. Runability varies from very thick undergrowth to one of the nicest older forests in Salmon Arm.
Map layout set up for a half sized letter sheet.

Uses 2 meter contours that are hand traced from LiDAR based.

PRODUCTION AND REVISIONS:
Created in 2016 by David and Jonathan Bakker. Open Orienteering Mapper file.
Map border is included as a different map part. Set up for a half letter sized paper.
Updated to ISSprOM2019 in 2021 by David Bakker and to OOMapper 0.9.4. Not fieldwork or actual map updates done at this time though. Rootstocks hidden from the map because they are out of date and new ones have shown up in the terrain.

LAND OWNERSHIP:
Entirely City of Salmon Arm parkland
DATA AGREEMENTS:

None

MAJOR EVENTS:
None.
SAFETY BEARING:

Safety Bearing: East to Major Road

CELL PHONE COVERAGE:

Telus/Koodoo/Public Mobile/Bell/Virgin - Excellent.
Rogers - Not Tested
UNIQUE SAFETY CONCERNS:

A couple of medium sized cliffs, but nothing major.
EMERGENCY INFORMATION:

START/PARKING CO-ORDINATES:

Not Filled in Yet

PICTURE TAKEN BY SAGE ON MAP:
None taken yet.
---
Map image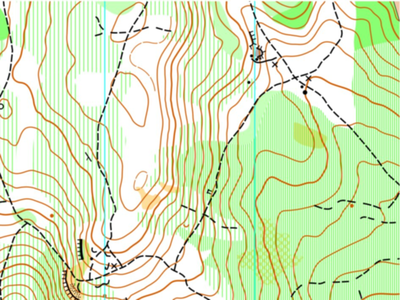 ---
Events on this map
Location