Okanagan College Salmon Arm Campus Map information
Statistics
| | |
| --- | --- |
| Scale | 1:4,000 |
| Map standard | ISSprOM |
| Events on map | 3 |
---
Notes
Part of the "Uptown Salmon Arm" mega sprint map. In the same map file as Bastion/Sullivan, and Shuswap Middle School.
No proper map layouts made yet.

2 Meter contours hand traced from processed LiDAR basemap.

PRODUCTION AND REVISIONS:
Created by David Bakker in 2014-2015, with expansion to the south and updates in 2016-2017. Phil Wallensteen helped with map creation around Bastion and Sullivan schoolyards.
The map area at the NW corner of Shuswap Middle school is very out of date, and now privately owned. MAP MUST BE UPDATED IN THIS AREA BEFORE IT IS USED AGAIN.

LAND OWNERSHIP:
Mixture of City of Salmon Arm Park, School District 83 land, and private Kings Christian Schoolyard, and the privately owned TechBrew buildings.
DATA AGREEMENTS:

None

MAJOR EVENTS:
None.
SAFETY BEARING:

Safety Bearing: Varies depending on the course.

CELL PHONE COVERAGE:

Telus/Koodoo/Public Mobile/Bell/Virgin - Excellent.
Rogers - Not Tested
UNIQUE SAFETY CONCERNS:

Major Traffic on 30th St SE, and the Trans Canada Highway
EMERGENCY INFORMATION:

START/PARKING CO-ORDINATES:

No typical start location.

PICTURE TAKEN BY SAGE ON MAP:
None taken yet.
---
Map image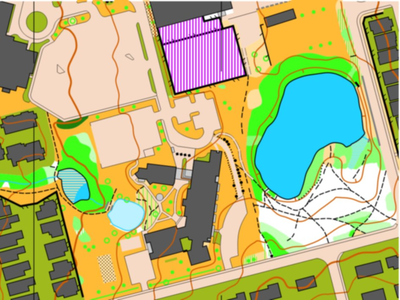 ---
Events on this map
Location