Bastion Elementary Map information
Statistics
| | |
| --- | --- |
| Scale | 1:2,000 |
| Map standard | ISSprOM |
| Events on map | 5 |
---
Notes
Uses the School District #83 Map Download Password.
---
2 Meter contours hand traced from processed LiDAR basemap.

PRODUCTION AND REVISIONS:
This schoolyard map of Bastion Elementary is a small, clipped out version of the Uptown Salmon Arm mega-sprint map that has been re-scaled to 1:2000. Created by David Bakker in 2014-2015, with expansion to the south and updates in 2016-2017. Phil Wallensteen helped with map creation around Bastion and Sullivan schoolyards.
LAND OWNERSHIP:
School District #83

DATA AGREEMENTS:

None

MAJOR EVENTS:
None.
SAFETY BEARING:

Small, fence enclosed schoolyard - safety bearing irrelevant.

CELL PHONE COVERAGE:

Telus/Koodoo/Public Mobile/Bell/Virgin - Excellent.
Rogers - Not Tested
UNIQUE SAFETY CONCERNS:

EMERGENCY INFORMATION:

START/PARKING CO-ORDINATES:

Bastion Elementary Parking Lot: 50.709141, -119.258536
PICTURE TAKEN BY SAGE ON MAP:
None taken yet.
---
Map image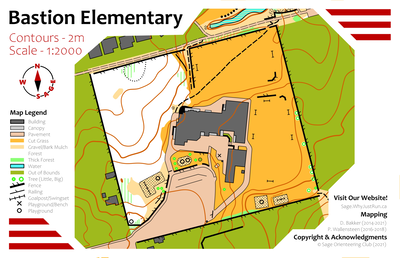 ---
Events on this map
Location