Sullivan/Bastion Map information
Statistics
| | |
| --- | --- |
| Scale | 1:4,000 |
| Map standard | ISSOM |
| Events on map | 4 |
---
Notes
2 Meter contours hand traced from processed LiDAR basemap.

PRODUCTION AND REVISIONS:
Created by David Bakker in 2014-2015, with expansion to the south and updates in 2016-2017. Phil Wallensteen helped with map creation around Bastion and Sullivan schoolyards.

LAND OWNERSHIP:
Mixture of City of Salmon Arm Park, School District 83 land, and private Kings Christian Schoolyard.
MAJOR EVENTS:
None.
------------------------
The download includes the entire uptown Salmon Arm map. There are separate map parts for layout files of each separate different area to be used within the one map file.

---
Map image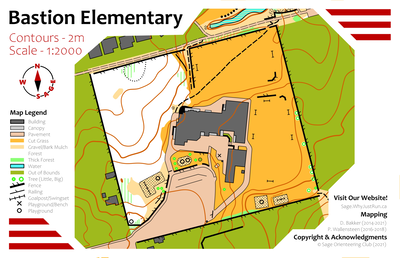 ---
Events on this map
Location