Lower Postill -- CANCELLED Kelowna
November 6th 2022 10:00am - 1:00pm
Organizers: Tammy Howe (Event Director), Tammy Howe (Course Planner), Kevin Matrosovs (Controller)
Map: Lower Postill
CANCELLED
This event has been cancelled due to the conditions. With this snow, there is no safe parking on Postill Lake Rd near the start/finish. Additionally, it would also be very hard to follow some of the trails on the Novice and Intermediate courses.
We'll be in touch with those who became Sage Orienteering Club members just in time for this event.

Overview
This final 2022 event of the Kelowna orienteering calendar will take place in the fantastic detailed terrain on the Lower Postill map behind the Kelowna airport.
The Lower Postill terrain is a beautiful open forest with numerous rock and contour features and a significant trail network.
This activity will be on the same newly expanded map as the spring event here. For those who've done previous events here, the former sprint standard map has been redrafted to a forest standard and expanded to include new terrain. If you missed running on this fantastic new map in the spring, come check it out!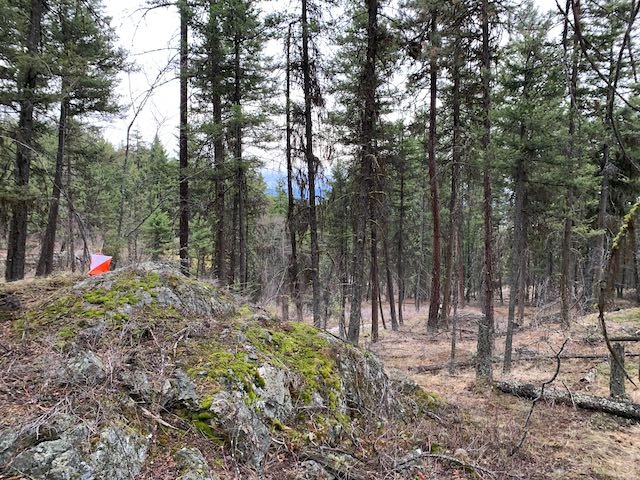 Schedule
November 6: In-person activity with on-site help and socializing.
09:30 -- Check-in opens with help and coaching available.
10:00-13:00 -- Do the Beginner, Intermediate or Advanced course on your own while the event staff are on-site.

Registration
To register for the event, you must first be a Sage Orienteering Club member. If you are not yet a member, sign up for your Sage membership (includes a waiver) on Zone4 here.

Click the green +Register button next to your desired course.
Cost
This event is free to Sage Orienteering Club members.
Location, Parking, and Map
The start/finish location is on Postill Lake Rd a short distance past the intersection with Farmers Dr. See the pin on the map below.
This area is popular with off-road vehicle users and there is a significant trail network. Keep your ears open for ATVs and dirt bikes.
You may hear gunfire. This is from an informal shooting range further up the road well north of the map. The firing direction is away from the map, so no worries!
Courses
Controls will be marked in the terrain using standard orienteering control flags. The courses are currently being planned, but expect the following rough guidelines:
Novice: 2.1 km -- On-trail loop with easy navigation and all controls on or near trails.
Intermediate: 2.7 km -- Longer loop with off-trail travel, controls and navigation; and significant climbing and descending.
Advanced: 4.5 km -- Longest loop with significant off-trail travel and controls and the most challenging navigation.
COVID Safety
Please stay home if you have any symptoms of COVID-19 or illness.
---
Location
Course Maps
No course maps posted yet.