Big Junction Kelowna
June 23rd 2020 7:00am - July 16th 2020 5:00pm
Organizers: Kevin Matrosovs (Event Director), Kevin Matrosovs (Course Planner), David Bakker (Assistant)
Map: Big Junction
Post Event
Only one GPS track was uploaded for the beginner course, so it has been sent to the participant directly.
Advanced:

Quick Links
If you still would like your GPS track added to the 3D-ReRun, upload your track using the button below, and also send David or Kevin an email/Facebook message saying that your track needs to be added.
Location and Map
This event is in a new location just above the Kallis Car Park trailhead of the Kelowna Nordic Ski and Snowshoe Club trail network. This is the first right only 550 metres after the Big White junction on Highway 33 east of Kelowna. It is a roughly half hour drive from the intersection of Highways 33 and 97 in Kelowna.
The map is brand new this spring. We have not had time to finish it to full orienteering standard. In particular, the vegetation is 100% computer generated. The trail network is not very dense but there are several major trails that are solid catching features. This map has not been fully field checked, so please keep in mind that there may be some details that are not reflected on the map.
Having said the above, the map should be good enough to enjoy some fun orienteering!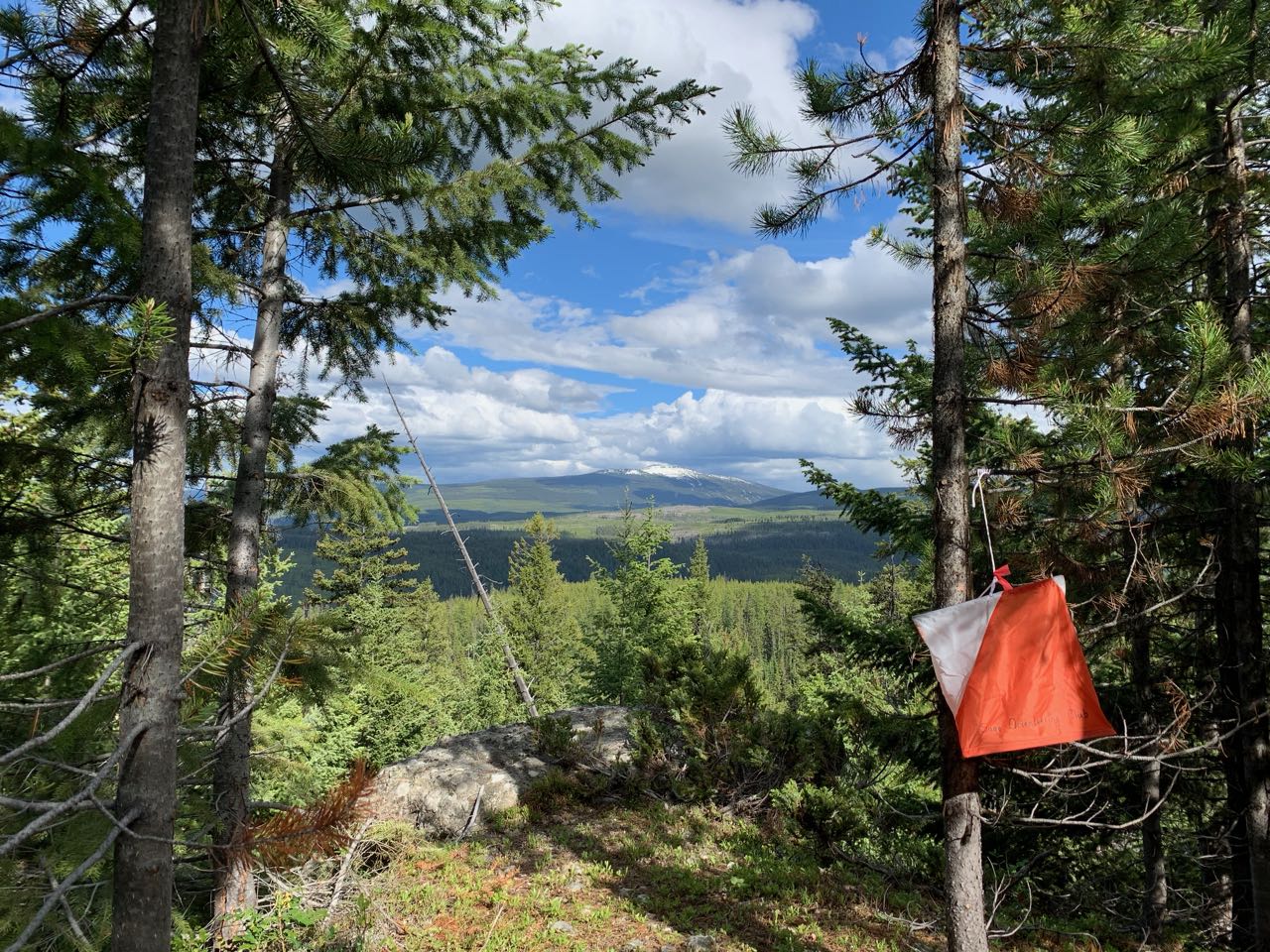 Courses
The start/finish location is at the first intersection 1.3 km up the gravel service road above the Kallis Car Park. Please park well off the main gravel service road and out of the way of any trucks that may come through.

If your printed map is black and white, you can carry a cell phone with the pdf on it to check the map in colour if you need it, which can be helpful to identify features such as vegetation and clearings. The Staples self-service print shop is now open and has colour laser printers that cost $0.46 per copy. You may also be able to order colour prints there via their website, but I have not tried it. This may be well worth it as having a colour map will be helpful here.
This is still early season and some areas of this map are quite wet. You will get wet and muddy. Unless you're running, and maybe even then, bring bug spray. Enjoy!

Beginner: 3.4 km straight line distance on major trails with a section of off-trail forest connecting two trails in the middle. All but 2 controls are next to trails with easy navigation.
Advanced: 5.9 km straight line distance with most controls in the forest away from major trails. There is some route choice between longer distances in part on major trails and more direct routes entirely through the forest. This is a great course for practicing off-trail forest navigation while safely surrounded by major trails. Bring your compass!

---
Overview
Due to the exceptional global circumstances at the moment, we will not be having our usual events. Instead, we are setting up trainings that can be completed in your own time, any time, over the coming weeks. For all the trainings we will be hanging some flags in the woods for a few weeks, and individually emailing out maps. You print out the pdf to get your own map (or if you are very careful, keep it on your cellphone) to use.
We are choosing training location very carefully to be locations that tend to have low public use to maximize social distancing, but are relatively close to the city to minimize travel. We will be on forested maps exclusively, and not using any of the park maps in the city that are already over-crowded. We have some new maps in the works, but will also be returning to some previously used ones.

Precautions

Read through the Orienteering Canada Self-Guided Orienteering Guidelines.

Please stay home if you have any symptoms of COVID-19 or illness.
Please stay home if you have been in close contact with a confirmed or probable case of COVID-19 in the last 14 days.
Only participate in orienteering activities with individuals from your COVID-19 bubble.
Stay at least 2 metres away from all other park/wilderness users and do not congregate at the trailheads or control sites.
Do not touch the control(checkpoint) flags – just get within 5 metres or so.
Walk/run with extreme caution to avoid any injuries.
Carrying bear spray is according to your comfort level but is a good idea.
Mosquitos!!
Cost
These trainings are being offered as a free mental health service to all Sage Orienteering Club members. Now is a great time to go for a run by yourself or in a very small group in the beautiful Okanagan nature.
How You Can Help
These events are running entirely on volunteer manpower. We would love some help if you would be willing to pick up controls at a specified times at the end of each event, and handing them on to the next volunteer who will put them out.
---
Location