Gardom Bench Salmon Arm
May 8th 2020 8:00am - May 17th 2020 4:00pm
Organizers: David Bakker (Event Director), David Bakker (Course Planner)
Map: Gardom Bench
Post-Event
Results
Routegadget (3DReRun)
Can be found here. I would like to thank everyone for uploading their tracks, I think it is educational and beneficial for everyone. Especially big thanks to those who cut out parts of the course, but still uploaded.
Logging of Doom
Tolko is in the early stages of planning a monster cutblock that will decimate the vast majority of the map area rendering it completely unusable. A group of local citizens around the map area has started a letter writing campaign to try and prevent the logging by transforming the area into a CSRD park. The last CSRD parks plan for the area suggested the area was a high priority for becoming a park because of its conservation value. Please consider reading more and writing a letter to help save this map.
---
Pre-Event Info
Due to the exceptional global circumstances at the moment, we will not be having our usual events. Instead, we are setting up trainings that can be completed in your own time, any time, over the coming weeks.
For all the trainings we will be hanging some flags in the woods for a few weeks, and individually emailing out maps. You print out the pdf to get your own map (or if you are very careful, keep it on your cellphone) to use.
Location and Map
The Gardom Bench is a section of crown owned land above Gardom lake entirely surrounded by Private Land. This is a brand new area for us, in fact the map is brand new this week. We have not had time to finish it to full orienteering standard. In particular, the vegetation, contours and cliffs are 100% computer generated. The trails have been added from some limited fieldchecking. This map has not been field checked, except for a few very specific and limited places. Having said the above, the map should be good enough to enjoy some beautiful orienteering!
The map area has some very green sections, but is interspersed with some more easily runnable forest which we have tried to maximize with the course setting. Full leg cover of some fashion is a must because of the vegetation. The courses are also designed to give you a good view, but have some climb (although significantly less than Haines Creek did).

Parking
There are three parking options for this event depending on the clearance of your vehicle. There is a description for vehicles & parking as well as a map. Please err on the side of caution when choosing your parking location.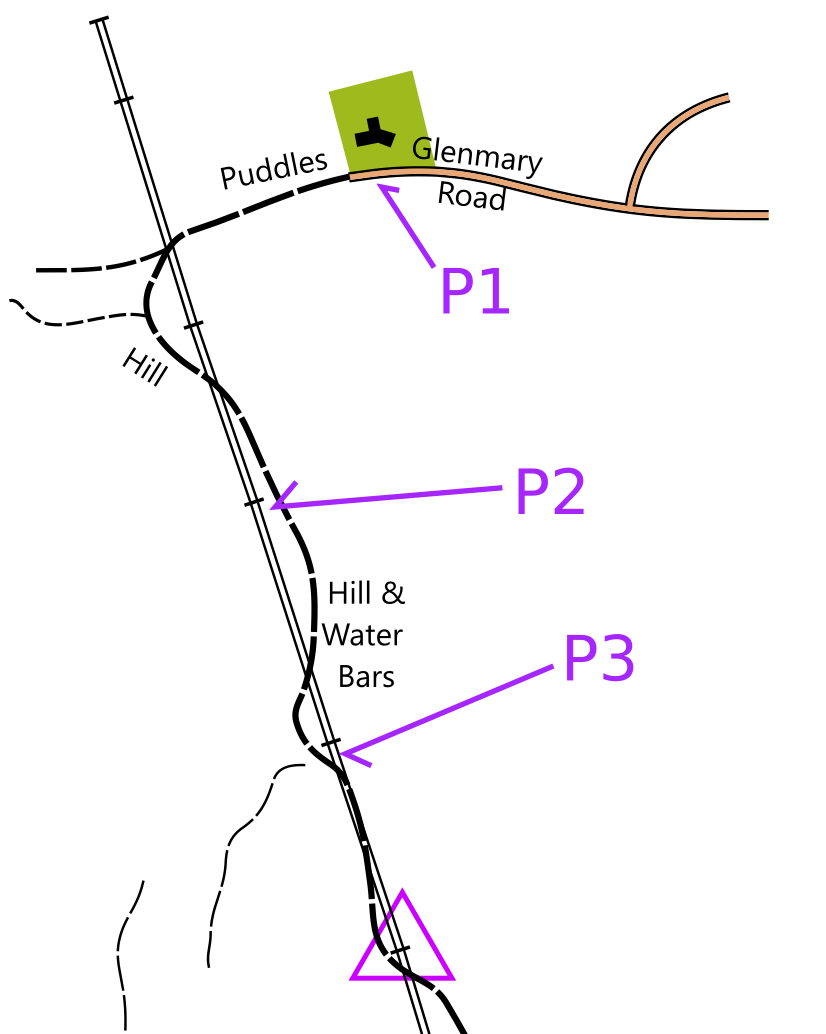 P1: This parking option is accessible by all vehicles. It is a slightly wider section on the end of a dirt road (Glenmary) which is immediately opposite a house (please respect their lawn adjacent the road). The start and finish of this event are roughly 850 m up a quad track/old logging road, which is four powerpoles up from this parking. This is the point labelled on the google map at the bottom of this page.
P2: Most vehicles with all wheel drive or four wheel drive should be able to make it to this parking area which is just a flat open area on the side of the track. Some ok quality logging road driving is required, but there are no major waterbars. The walk to the start/finish is reduced to 400 m.
P3: Only vehicles with good clearance should attempt to park here. There is plenty of parking - BC Hydro recently replaced this powerpole and created a large, flat dirt area - but there are several waterbars along the road between P2 and P3 that will not be passable by most vehicles. You are down to a flat 150 m walk to start/finish.
Courses
Keep in mind that depending on which parking option you choose, all the courses have up to an additional 850 m walk each way to and from the start/finish.
Intermediate:

It is nigh impossible to set a proper intermediate course at this venue because of the lack of trails, but we have done our best.
The first portion of the course (up to control #7) is similar to the South Canoe Intermediate course with controls (checkpoints) close to or on trails. Control #6 is a recommended turnaround point, and has a beautiful view of the Deep Creek valley and the eastern slopes of Mount Ida. The latter portion of the course you have the choice of returning along the trail which you came from (more beginner friendly), or a long bushwack (more adventurous) back to the start. There is a strong catching feature if you choose the bushwack option.
The full course distance is 3.1 km measured in a straight line. The course can also be cut short by turning it into an out-and-back by turning around earlier.

Advanced:

The advanced course is technically and physically challenging orienteering. The terrain is rough and trails are limited.
The full course distance is 4.3 km, but there are lots of opportunities to cut it shorter while retaining the technical difficulty.
The beginning of the course is a bit of a green grind, but later on you get some beautiful views and white forest.
---
Locations

We are choosing training location very carefully to be locations that tend to have low public use to maximize social distancing, but are relatively close to the city to minimize travel. We will be on forested maps exclusively, and not using any of the park maps in the city that are already over-crowded. We have some new maps in the works, but will also be returning to some previously used ones.
Precautions

Please stay home if you have any symptoms of illness.
Only participate in orienteering activities with individuals from your immediate household.
Stay at least 2 metres away from all other park/wilderness users and do not congregate at the trailheads or control sites.
Do not touch the control(checkpoint) flags – just get within 5m or so.
Walk/run with extreme caution to avoid any injuries.
Cost
These trainings are being offered as a free mental health service to all Sage Orienteering Club members. Now is a great time to go for a run by yourself or in a very small group in the beautiful Okanagan nature.
How it Works

Register your Sage Orienteering Club membership online on Zone4. Payment and waiver are both online on Zone4 this year.
Once registration opens (it's not open yet!), register for the course of your choice and let us know how many of you are going. We will email you a map individually - so make sure your email address with your WhyJustRun account is accurate.
Run the course whenever you want during the times when the event is open. If you are interested in comparing results & routes with others, record a GPS track on your smartwatch or phone.
(Optional) Upload a .gpx file (you can export this from Strava, Garmin Connect, Attackpoint, and many others) to our website (link will be posted once registration is open) which will calculate your split times. We will also then overlay all the GPS tracks onto the map together so you can compare routechoices with others. We might not be able to gather socially, but we can still talk about or routechoices digitally.
How You Can Help
These events are running entirely on volunteer manpower. We would love some help if you would be willing to pick up controls at a specified times at the end of each event, and handing them on to the next volunteer who will put them out.
---
Location