Pileated Woods Salmon Arm
June 18th 2018 5:30pm - 7:00pm
Map: Pileated Woods
Post Event Report:

Big thanks to Mena and Jonathan for an excellent event in a small park. Next week we are at Park Hill, finishing on Canoe Beach, so bring a swimsuit and towel to cool off after the event.
Organizers: Event Director: Mena Bakker Course Planner: Jonathan Bakker Controller: David Bakker

Registration is now open.

We're cooking up a mass start FARSTA this week. Absolute Mayhem in the forest! There will also be a beginner friendly point to point course.
Event Format This Week:

The format is this week is

called a 1 man relay, in the FARSTA style (don't worry, we don't know

what that means either, I think it's a town in Norway!). Basically, it

is a mass start race, where there are four different loops. Each

competitor going around each loop once, but with everybody going around

the loops in different orders. To add even more excitment, there are

two different variations of each loop, so you never know if that person

you are following is going the same place as you are! Basically,

everyone has a very similar course in terms of distance and difficulty,

but everyone does it in different orders and they are slightly

different, so you can't follow anyone! If this sounds confusing, don't

worry, just follow your map and ignore what everyone else is doing.

Also, we'll explain it all when you arrive.
Schedule:

5:30 - Registration Opens and Beginner instruction
5:55 - Walk to start location (you must be here by this time at the very latest)
6:00 - Mass Start (ABSOLUTELY NO LATE STARTS THIS WEEK)
7:30 - Courses Close
Parking and Meeting Location:

We will meet at the location on the map shown in the bottom of page which is on 11th st SE. There is no dedicated parking lot for Pileated Woods, so please park in the surrounding cul-de-sacs and neighborhoods according to the map. Use common sense when parking near people's driveways, intersections etc. Please avoid walking through the park before the event. Please consider walking, running, or carpooling to the event due to the limited parking.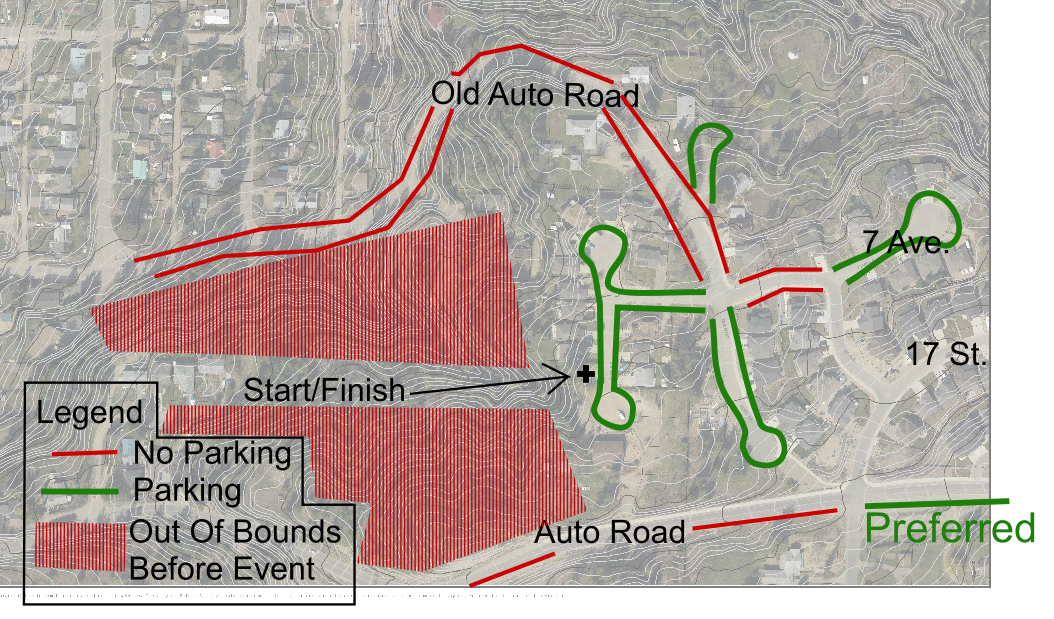 ---
Location