Sage Stomp XXXIII 2018 Coaching, Training and Competition Camp
May 18th 2018 6:00pm - May 21st 2018 12:00pm
Organizers: Jackie Bonn (Event Director), Alan Vyse (Host), Alan Vyse (Course Planner), Jackie Bonn (Course Planner), David Bakker (Assistant)
Results:
Save the date for our next awesome event weekend, the BC Orienteering Championships, on September 29th and 30th on brand new maps in Revelstoke BC!

Details:

If you are trying to find out some info or want to register for the courses this weekend, please either show up at the start and/or email vyse@telus.net.
grannysmith111@gmail.com is out of data range this weekend
Two clinics in one. Orienteering skills training and Orienteering Coaching.
Coach Brent Langbakk will design a coaching program that will focus on various orienteering techniques. Special instruction will be provided to coaches who will then worked with the athletes in small groups.
A weekend of athlete development, coaching skills and practical development.
two streams: improve your coaching skills or improve your orienteering skills
Mcqueen Lake Centre
Great maps and great venue
Sprint (3:15 first start) and Long event (9:30 first start)
If you can't make the weekend, come out to one of the events. Either the Sprint on Sunday or Long on Monday or both !!!
Schedule:
Fri 4:30 Gates Open to McQueen Lake
Fri pm: 8 pm coaching theory and prep for Sat
Sat am: 9:30 am in field session of coaches working with athletes
Sat pm: in field session of coaches working with athletes
Sat after dinner: coach theory
Sun am: in field session with coaches
Sun pm: in field session with coaches
Sun pm: SPRINT race 3:15 first start (grassland sprint - Bunker Bench)
Sun after dinner: coaches do goal setting with athletes
Monday am: LONG race 9:30 am first start (McQueen Lake map)
Cost
Full camp: adult $160, under 19 $80; sibling $60 includes training, sat evening indian food, sun evening burgers, accommodations
Camp with no accommodations or food: adult $80; under 19 $40
Full camp for coaches: adult $80; under 19 $40 includes training, meals, accomodations
Sprint and Long event: adult $40; under 19 $20
Accommodation and Food
Cabins with bunk beds are available at the McQueen Lake Centre and are available beginning on Friday night. Each cabin has 6-8 beds. Bring your own mattress and sleeping bag. We are limited to 70 people, so book early! Info on the Centre is available at http://www.mcqueenlake.com/. Very limited camping is also available on site at a cost of $15 per person per night. Undeveloped forest recreation camping sites are available close to the centre but they will be busy for the long weekend. Kamloops is 30 minutes from the map and has a wide variety of hotels and motels.The Centre has good cooking facilities with a large propane cooker and hot water. Evening meal Saturday - Indian food and Sunday - burgers are included in the camp cost. Please bring your own food for Friday night, breakfasts, lunches and snacks. The bathrooms are also very good. The highlight is a large and expensive composting toilet. There are showers but hot water is limited.
Food
Please bring own plate, cups and cutlery for meals.
Child care
Child care can be available if there is enough interest for this. There will be small children in attendance. Informal child minding can be arranged.
Long Event and Sprint Event
Long will be held on Mcqueen Lake map. Course planner: Alan Vyse; Controller: Murray Foubister.
Sprint will be held on Bunker Bench grassland map (in Kamloops) Course planner: Jackie Bonn; Controller: Murray Foubister

SS XXXIII Courses and classes:
Sprint event on Bunker Bench Grassland Map: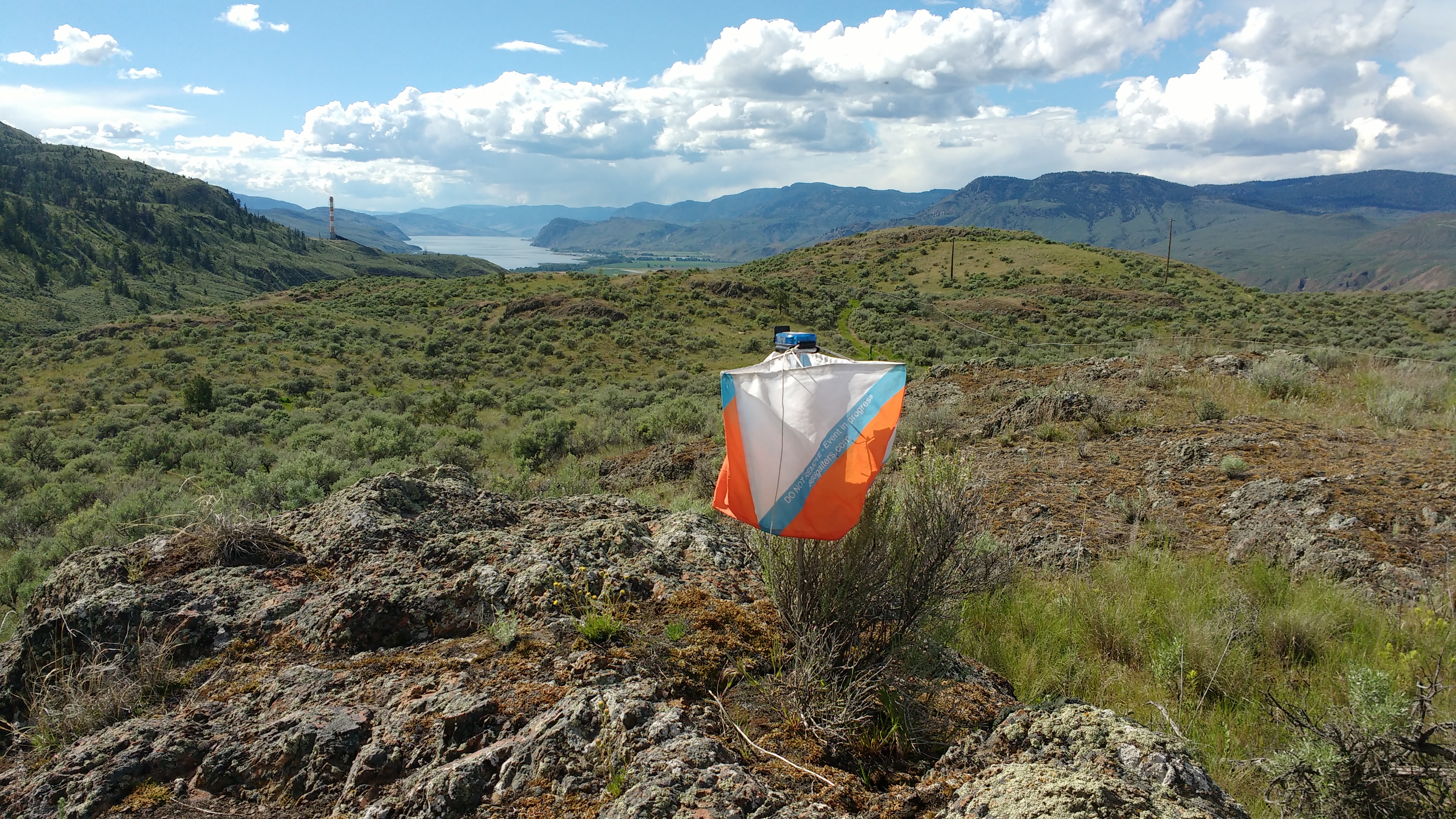 Bunker Bench 1:5000, contours: 2m ; mapped in 2018 by David Bakker

3 longer than a true Sprint courses offered:
beginner: 1.9 km
medium length: 2.6 km
long length: 3.3 km
The Bunker Bench map is near TRU in the bottom part of Kenna Cartwright Park. We will meet in the parking lot right by the composting dropoff. See the google map below for the exact location. The map is named after the World War 2 bunkers that were built to store large quantities of ammunition for the Canadian coastal defence forces. Kamloops was considered a safe spot but within easy reach of the coast by rail. The map is at the north eastern edge of Kenna Cartwright Park and is open sagebrush with some complex rock features.

While walking the ground yesterday, I had no ticks but lots of mosquitoes bites. The sagebrush is dry. Protection for legs recommended (even though it is going to be hot).
Long event at McQueen Lake Monday May 21st 2018

Map: McQueen Lake; 1:10,000 mapped in 2012 by Bryan Chubb and Alan Vyse
Course planner: Alan Vyse
Controller: Murray Foubister.
Distance from arena to start: 1300 meters (along the north side of McQueen Lake, with 40m climb from the main road to the start line.
The McQueen Lake map was first produced in 1981 for the Canadian Championships. The map has been used continuously since then with numerous revisions and additions. A new base map of the area was made in 2009 using special photography ordered by OABC. It covers 24k
2
. Mapping began in April of 2012 and a new area was added this year north of McQueen Lake.
The area was first settled by homesteaders in the early 1900s and almost all of the forest has been logged at least once. The remains of old homesteads and sawmills can be found in several places on the map. The forest on the west side of the map was logged again in the 1990s as part of a large experiment looking at the effect of different intensities and patterns of cutting on plants and animals, and more experimental logging was carried out on the north end of the map ten years ago.

The finish arena this year is the McQueen Lake Centre. The start is about 1.3km from the Centre.

Map hazards include new and old fences with some loose barbed wire. The open areas on the southern parts of the map are almost always grassland and runnability at this time of year is excellent. If you have time, admire the wildflowers! In the north western section of forest, the open areas almost always have shrub ground cover. The white forest varies in both visibility and runnability. Areas of poor visibility or runnability are often diffuse or indistinct in extent and only the larger areas are mapped. In addition, there has been additional windfall since the last map revision. There are steel bars pounded into the ground in some spots and are used as permanent markers for experimental plots. They are painted and are bent over on the top and so should not pose a hazard.
All courses cross the Lac Du Bois Road. Please take care when crossing the road. This is the long weekend and there are lunatics out there. Two of them crashed their SUV on the main road at the bottom end of the map while we were flagging, so there is one less vehicle. There are numerous fence crossings. The fences are tight so take care.
There are many small ponds and marshes in the forested areas. Water levels are high and wet areas will be more extensive than mapped.
There are marked routes for Course 1 and a designated crossing point on Course 3.
Some bear poop and mosquitoes have been seen on the map. And the wild roses are widespread in the forest: gaiters are recommended.

The numbers are small so the start procedure will be informal. The starter will try to use a 3 minute gap for people on the same course. The start triangle is remote. There is no punch at the start triangle but you must go to the start triangle.

The maps will be printed on regular paper and map bags will be used.

Water will be offered at several locations on the main road, close to likely crossing points. It is almost certain to be warm so bring sun-screen, sun-glasses and a hat!




LONG Event

Courses

1

2

3

4

5

6

7

8

Classes

F10

M10

F11-12

M11-12

F13-14

M13-14

F15-16

M15-16

M75-79

F75-79

M80+

F80+

M85+

F85+

F17-18

F45-54

F55-64

M65-74

F65-74

M17-18

F19-20

F21-34

F35-44

M45-54

M55-64

M19-20

M21-34

M35-44

RWT for Long

30

30

30

50

50

50

60

70

Distance

km

2.9

3.2

4.0

4.7

3.5

4.8

6.3

9.3

# of controls

9

14

14

14

10

9

13

16

climb

60

65

80

90

70

100

140

230

Map scale

1:7500

1:7500

1:10000

1:10000

1:10000

1:10000

1:10000

1:15000
Please note
Course closes at 1PM
---
Location