Haines Creek - New Forest Map! Salmon Arm
May 13th 2017 11:00am
Course Maps
Short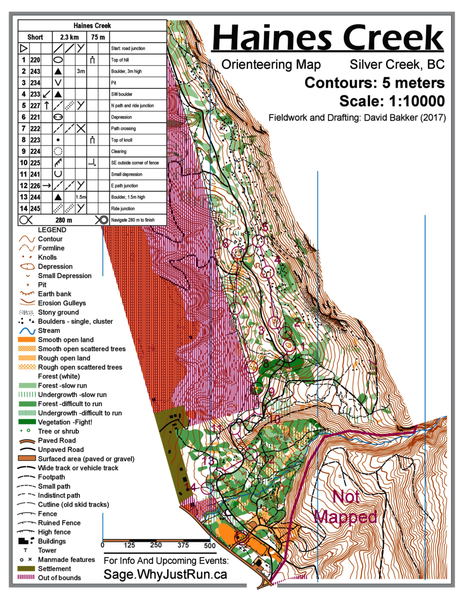 Intermediate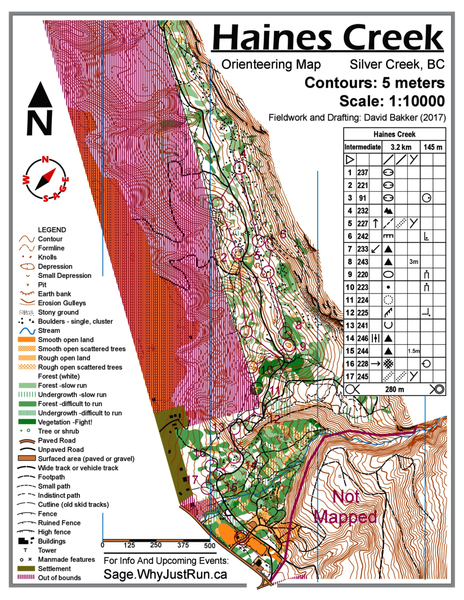 Long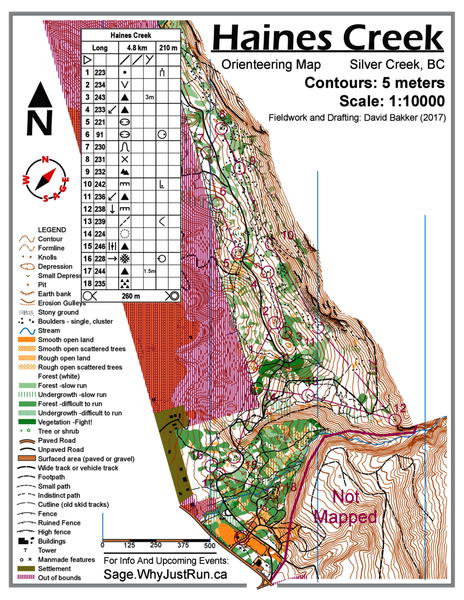 Organizer: David Bakker (Event Director)
Map: Haines Creek
Thanks to everyone for coming out. Results are now posted, stay tuned for photos and maybe a video. If you were wearing a GPS on the long or intermediate course please send me the gps track (email me at davidtrb@live.ca). A big thanks to the bikers for accommodating us and being for the most part very respectful (with one notable exception). If you have attackpoint, go claim your splits over there (once I have them uploaded).

---
Description:

Come on down Silver Creek for a great orienteering experience in the nicest, most open forest near Salmon Arm and discover a new trail system while you are at it. It is also a great way to get some good practice in before the Sage Stomp coming up on May long weekend. The map is long and narrow, located on a bench on Mount Ida below the popular Haines Creek Bluffs rock climbing area, and is bordered along one edge by a fence and the other by a line of cliffs, so no chance of getting lost.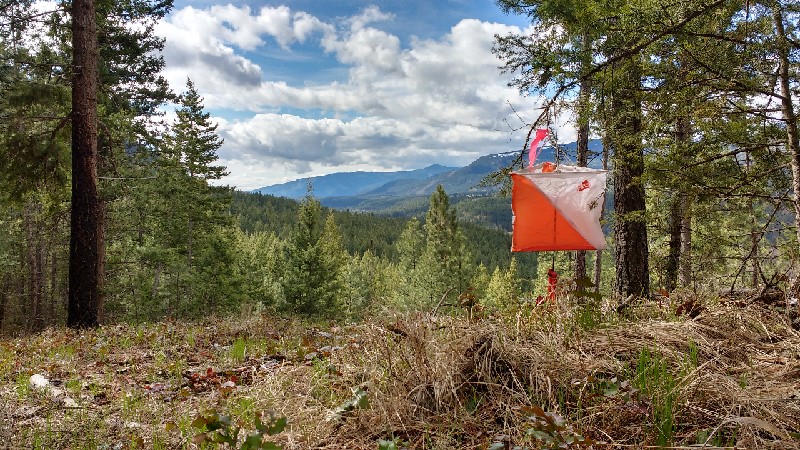 Note that this area is popular with Dirt Bikers and the trails will be open to all users during the event. Please respect other trail users.
Schedule:

11:00 - Registration Opens and first starts
12:30 - Last Starts
2:00 - Courses Close
Courses:
Salty Dog Racers have no fear about burning yourself out! Courses are designed to be a little shorter than normal this week both due to the relatively small size of the map, and the Salty Dog the next day. There will be very little climb on all of the courses (compared with South Canoe or any Kamloops event), but there will be a 1.2km uphill walk (gains about 100m in elevation) to the start to avoid the climb during the race. It is possible to be dropped off at the start by a four by four vehicle, however the finish is at the bottom of the hill. There is no parking by the start, so registration will be in the parking lot at the finish. Three courses ranging in difficulty and distance will be offered to meet every skill and fitness level:
Meeting Location and Directions:

From Salmon Arm, travel south along Salmon River road. Meeting place will be in the parking lot of the Silver Creek Community Park which is just north of the Firehall, and just south of a small church. See the map pin below. There is an outhouse on site. We will have table set up and the Sage Orienteering Club banner as well.

Cost:

$5/per map, in addition to membership which is required for insurance reasons.

Membership:

$10/Junior

$20/Adult

$40/Family

Beginner's Discount:

Come try out the sport for only $5, or $10 for your whole family. We will have someone on hand to teach you the basics of the sport and a beginner friendly course for you to try out.

---
Location