Statistics
| | |
| --- | --- |
| Scale | 1:15,000 |
| Map standard | ISOM2017 |
| Events on map | 1 |
---
Notes
1:15000 - 5m Contours. Print Layout setup for letter size 1:7500.
PRODUCTION AND REVISIONS:

Created in 2023 by David Bakker in OOMapper 0.9.5. Potential to expand map further. Created with computer generated KP vegetation, manually drafted contour and cliffs, and fieldchecked trails. No other fieldchecking.
DATA AGREEMENTS:

LAND OWNERS:

Crown provincial land. Within the Central Okanagan Regional District. Not a numbered Rec. Site, outside of the District of Lake Country, outside of City of Kelowna.

MAJOR EVENTS:

None

SAFETY BEARING:

Safety Bearing: West to Fence / Forest Service Road

CELL PHONE COVERAGE:

Telus/Koodoo/Public Mobile/Bell/Virgin - Very Good (Vast majority of map multiple bars, some possible local dead spots in low areas)
Rogers - Not Tested
UNIQUE SAFETY CONCERNS:

Some medium size cliffs
Wildlife (possible habitat for bears - although have not been observed on the map).
Motorized Off-Road Vehicles on major FSR, equestrian users on single track trails.
EMERGENCY INFORMATION:

Nearest Hospital: Kelowna General Hospital (~30 minutes)
Central Okanagan Search And Rescue: Call 911
RCMP: Call 911
START/PARKING CO-ORDINATES:

Just past the cattleguard on Bata FSR (just into crown land on corner of the map): 49.961035, -119.317954
PICTURE TAKEN BY SAGE ON MAP:
None yet.

---
Map image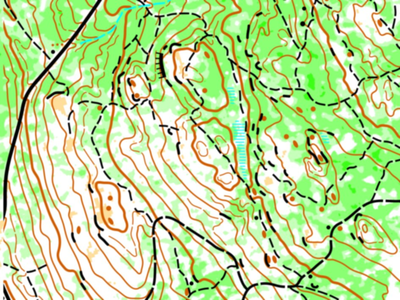 ---
Events on this map
| | |
| --- | --- |
| It's Better on Bata (AID) - New Map! (OK) | Sep 20, 2023 |
Location