Telemark Ski-O Map information
Statistics
| | |
| --- | --- |
| Scale | 1:15,000 |
| Map standard | ISSkiOM |
| Events on map | 0 |
---
Notes
1:15000, 5m contours
PRODUCTION AND REVISIONS:
Made in 2022 by David Bakker in OpenOrienteeringMapper 0.9.5 using ISSkiOM 2019 symbol set. LiDAR basemap, hand drawn 5m contours Several possible expansions (hidden symbols in map file) including
Snowshoe Trails
Crystal Rim
South End of Panorama Ridge Trail
K9 Trail Area
LAND OWNERSHIP:
Mostly in the Telemark recreation site - need to get permit from Front Counter BC & talk to Telemark Nordic first.
DATA AGREEMENTS:
Government of BC Open Data Licence (LiDAR basemap and Parcels).

MAJOR EVENTS:
None.
SAFETY BEARING:

East to Paved Road

CELL PHONE COVERAGE:

UNIQUE SAFETY CONCERNS:

Wildlife
Large Cliffs on Southern Most Trails
Possible Issues with usually one way trails
EMERGENCY INFORMATION:

START/PARKING CO-ORDINATES:

PICTURE TAKEN BY SAGE ON MAP:
None taken yet.
---
Map image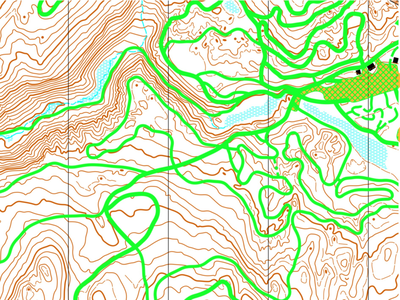 ---
Location