Mount MacPherson Ski-O Map information
Statistics
| | |
| --- | --- |
| Scale | 1:15,000 |
| Map standard | ISSkiOM |
| Events on map | 0 |
---
Notes
5 Meter contours processed with early Karttapallautin for most of the area; hand drawn LiDAR based contours around SE corner; Roughed in 5m contours based on a couple hours of survey on SW edge or the map around race trails.
1:15000 Mapped & recommended print scale.

PRODUCTION AND REVISIONS:
Created by David Bakker in 2017-2019. Open Orienteering Mapper (0.8.1) filetype. A letter sized at 1:10000 chunk was completed and used in spring 2017. The map was expanded to the South to the northern edge of the private land in fall 2017, resulting in drastically different vegetation mapping in the two parts (Devil's club and ferns had not yet grown during the spring mapping, but were in full force during the fall). Map has since been corrected to mostly rectify this situation, showing fall vegetation. The remaining portion of the map completed in summer 2018. Small expansion of around 1 square km on the NE corner in summer 2019.

LAND OWNERSHIP:
Crown land, small private area just north of ski lodge. Defined as a BC Parks and Trails Recreation site requiring permissions from Front Counter BC for events. For Ski-O events, need to co-ordinate with Revelstoke Nordic.
DATA AGREEMENTS:
BC Open Data Licence (for the LiDAR around Mickey Olson Loop)

MAJOR EVENTS:
None
CELL PHONE COVERAGE:

Telus/Koodoo/Public Mobile/Bell/Virgin - Generally Good (some low points between the higher hilltops have no service, but all hilltops have service, and the entire lower sections of the map have excellent reception)
Rogers - Not Tested
UNIQUE SAFETY CONCERNS:

One-Way Ski Trails
Dogs on Trails
EMERGENCY INFORMATION:

START/PARKING CO-ORDINATES:

Nordic Lodge Parking Lot: 50.942926, -118.222531

PICTURE TAKEN BY SAGE ON MAP:
None taken yet.
---
Map image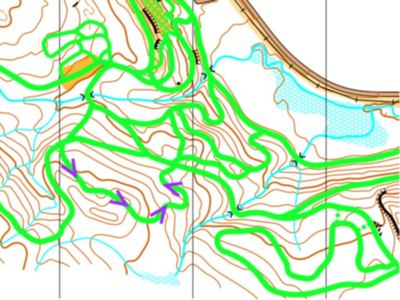 ---
Location