Statistics
| | |
| --- | --- |
| Scale | 1:15,000 |
| Map standard | ISOM2017 |
| Events on map | 2 |
---
Notes
1:15,000 - 5m contours
Layout set up for letter sized paper in portrait orientation at 1:10000.

PRODUCTION AND REVISIONS:

David Bakker (2021) in Open Orienteering Mapper 0.9.5. ISOM2017-V2
Contours hand traced from City of Kelowna (2019 LiDAR based pre-processed 1m contours). Map drafted entirely off air photos, other basemaps and streetview, no actual fieldwork. Vegetation mapping is therefore suspect, and small point features like boulders will largely be missing.

There is still the possibility of map expansion onto the central-west portion of Dilworth to the north of Summit Drive once the construction in the area is complete. Also, a much larger expansion onto the east side of Dilworth Drive, and possibly also using the publicly used, but privately owned, land around Mount Baldy.

LAND OWNERS:

A combination of:
City of Kelowna Parks
Crown Land Within City of Kelowna
Private Land (all of it is mapped out of bounds, except for a couple of widely used roads within strata agreements that have easements. Any private strata roads that have private property signs have purple out of bounds hash added on top of the map).
DATA AGREEMENTS:

MAJOR EVENTS:

None.
SAFETY BEARING:

Safety Bearing: No very relevant in this urban environment. Wide prevalence of cliffs on the map on all possible different bearings makes setting a standard safety bearing for this map potentially dangerous, and is therefore not applied.

CELL PHONE COVERAGE:

Telus/Koodoo/Public Mobile/Bell/Virgin - Excellent (entire map multiple bars)
Rogers - Not Tested (but expected to be excellent)
UNIQUE SAFETY CONCERNS:

Tall Cliffs
Vehicle Traffic on Major Roads
EMERGENCY INFORMATION:

Nearest Hospital: Kelowna General Hospital
Central Okanagan Search And Rescue: Call 911
RCMP: Call 911
START/PARKING CO-ORDINATES:

Lots of different options:
Dilworth Mountain Park Parking Lot: 49.893738, -119.443612
Lillooet Park Parking Lot: 49.897538, -119.437499
Dilworth Soccer Park Parking Lot: 49.897392, -119.426812
PICTURE TAKEN BY SAGE ON MAP:
None taken yet.
---
Map image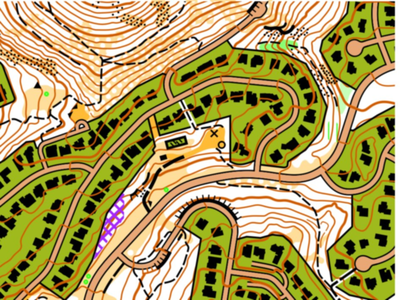 ---
Events on this map
Location