Dufferin Elementary Map information
Statistics
| | |
| --- | --- |
| Scale | 1:4,000 |
| Map standard | ISSprOM |
| Events on map | 5 |
---
Notes
Scale 1:4000; 2m
School and Park map.
Layout set up for printing on a half sized letter paper.

PRODUCTION AND REVISIONS:

2021 - David Bakker (Drafting) & Jackie Bonn (Limited Fieldwork) in OOMapper 0.9.4. Basemaps: City of Kamloops 2020 airphotos and pre-processed city of Kamloops 1m Contours.
LAND OWNERS:

City of Kamloops (park on NE portion of map) and School District #73 (school grounds on south-east portion)
DATA AGREEMENTS:

Open Government Licence - Kamloops

We are obligated to keep the text "Contains information licensed under the Open Government Licence - Kamloops" on the printed map
MAJOR EVENTS:

None.
SAFETY BEARING:

Largely irrelevant in this small park entirely bordered by fences or major roads, but if anything it would be south (downhill) to major road.
CELL PHONE COVERAGE:

Telus/Koodoo/Public Mobile/Bell/Virgin - Excellent
Rogers - Not Tested
UNIQUE SAFETY CONCERNS:

Pond/Marsh a potential problem for small children
Fast mountain bikers in the area
EMERGENCY INFORMATION:

FINISH/PARKING CO-ORDINATES:

Main Dufferin Elementary Parking Lot: 50.662040, -120.397456
Tennis Courts Parking Lot: 50.661278, -120.393487
---
Map image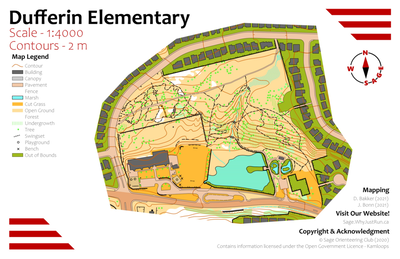 ---
Events on this map
| | |
| --- | --- |
| Run, Play and Don't Get Lost - Week 5 (Kam) | May 7, 2021 |
| Run, Play and Don't Get Lost - Week 6 (Kam) | May 14, 2021 |
| Run, Play and Don't Get Lost (Kam) | Oct 22, 2021 |
| Run, Play and Don't Get Lost (Kam) | May 20, 2022 |
| Run, Play and Don't Get Lost (Kam) | Nov 4, 2022 |
Location