City Park Kelowna Map information
Statistics
| | |
| --- | --- |
| Scale | 1:4,000 |
| Map standard | ISSprOM |
| Events on map | 1 |
---
Notes
1:4000; 2 m contours
Map contains an area larger than a letter sized paper (same map file as City Park and a portion of traffic heavy downtown). Map file download does not include any borders/legend/credits. Please include the following if you print the map: "Mapping: David Bakker (2018). © Sage Orienteering Club (2018). Contains information under the Open Government Licence - City of Kelowna."
In the Sage Nextcloud, this map file is saved under "Waterfront".

PRODUCTION AND REVISIONS:

City of Kelowna basemap using slightly modified hand traced contours of LiDAR origin. Produced in 2018 by David Bakker in Open Orienteering Mapper 0.8.1.
Updated in 2019 to ISSprOM2019 and some additional updates and expansion to the north. City Park portion was not updated.
Map file is the same as Cultural District, although this portion was not updated in 2019.

LAND OWNERS:

Need to contact City of Kelowna Parks department to host events with physical controls.
Delta Hotels Would Require Contacting if using their land - but were not very willing when last contacted (there is some potential for during non-tourist months of November through March).
DATA AGREEMENTS:

Kelowna Open Government Licence - We are require to print the text "Contains information licensed under the Open Government Licence –City of Kelowna." on the map.
MAJOR EVENTS:

2018 Okanagan Adventure Running Tournament
SAFETY BEARING:

Safety Bearing: West to Okanagan Lake.

CELL PHONE COVERAGE:

Telus/Koodoo/Public Mobile/Bell/Virgin - Excellent (entire map multiple bars)
Rogers - Not Tested
UNIQUE SAFETY CONCERNS:

Vehicle & Pedestrian Traffic
EMERGENCY INFORMATION:

Nearest Hospital: Kelowna General Hospital (~10 minutes)
Central Okanagan Search And Rescue: Call 911
RCMP: Call 911
START/PARKING CO-ORDINATES:

Various parking lots, so not set co-ordinates added here.

PICTURE TAKEN BY SAGE ON MAP:
None taken yet.
---
Map image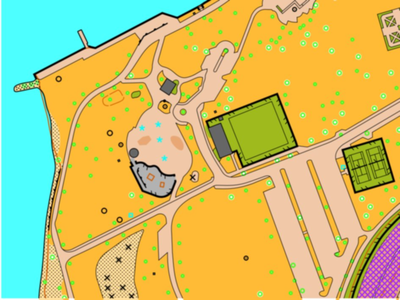 ---
Events on this map
| | |
| --- | --- |
| Okanagan Adventure Running Tournament | May 5, 2018 |
Location