Bert Edwards Science & Technology School Map information
Statistics
| | |
| --- | --- |
| Scale | 1:1,500 |
| Map standard | ISSprOM |
| Events on map | 0 |
---
Notes
Small school map. Download Uses Password for School District #73 maps. Map Image at 600dpi. Layout set up for half sized letter page.
---
1:1500; No contours
PRODUCTION AND REVISIONS:

Produced in OCAD (8 or 9) by Meghan Rance in 2006

Updated in 2020 by David Bakker, and converted to Open Orienteering Mapper (0.9.3).
Not georeferenced.

LAND OWNERS:

School District #73

MAJOR EVENTS:

None
SAFETY BEARING:

Not relevant - very small school map enclosed by fences.

CELL PHONE COVERAGE:

Telus/Koodoo/Public Mobile/Bell/Virgin - Excellent
Rogers - Not Tested
UNIQUE SAFETY CONCERNS:

None

EMERGENCY INFORMATION:

FINISH/PARKING CO-ORDINATES:

School Parking Lot: 50.708508, -120.360843
PICTURE TAKEN BY SAGE ON MAP:
None Taken Yet
---
Map image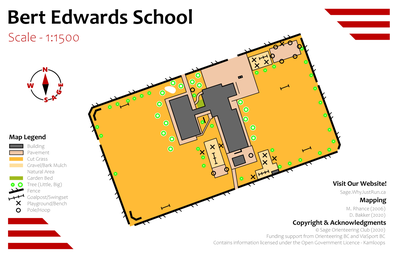 ---
Location