Sabiston Creek Map information
Statistics
| | |
| --- | --- |
| Scale | 1:15,000 |
| Map standard | ISOM2000 |
| Events on map | 1 |
---
Notes
1:15000; 5m contours
PRODUCTION AND REVISIONS:

2012-14 Bryan Chubb with minor additions by Alan Vyse; based on photogrammetry
Updates (limited trail & Marsh updates) by David Bakker in 2020. Included conversion to .omap (OOMapper 0.9.3 file type), and georeferencing of map file.

LAND OWNERS:

North of Road is crown land; south of road is Crown lease held by Indian Gardens Ranch; Dave and Bonnie Haywood Farmer are the ranchers
DATA AGREEMENTS:

None
MAJOR EVENTS:

WCOC 2014 Long and Middle; BCOC 2015 Long and Middle; Sage Stomp XXXII in May 2017
SAFETY BEARING:

Safety Bearing: Depends on course - typically either south to Sabiston Creek FSR, or North to Sabiston Creek FSR.

CELL PHONE COVERAGE (2020):

Telus/Koodoo/Public Mobile/Bell/Virgin - VERY LIMITED SERVICE - Select sections of south facing slopes on higher hills get some coverage.
Rogers - Only select areas tested - spotty coverage including in several low points on the map.
UNIQUE SAFETY CONCERNS:

Potential Habitat for Bears & Rattlesnakes
Vehicle Traffic on Sabiston Creek Road
Barbed Wire Fences
Cattle
EMERGENCY INFORMATION:

FINISH/PARKING CO-ORDINATES:

Clearing between major pond and Sabiston Creek Road (WCOC 2014 arena site): 50.793850, -120.877491
Big clearing surrounding Smith Camp Road (BCOC 2015 arena site): 50.806783, -120.895105
Other options are available as well
PICTURE TAKEN BY SAGE ON MAP:
None taken yet.
---
Map image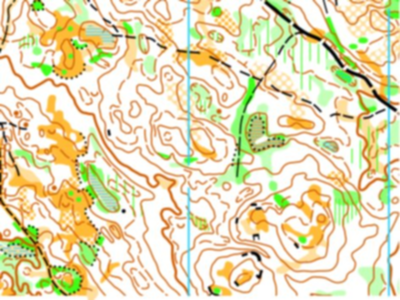 ---
Events on this map
Location