McQueen Lake Map information
Statistics
| | |
| --- | --- |
| Scale | 1:15,000 |
| Map standard | ISOM2000 |
| Events on map | 0 |
---
Notes
This is the ISOM map. There is also the Buck Eye Knoll (McQueen) sprint map in the same area.

Multiple Map Files:
Download 1 is of a layout file included that was used for 2016 Sage Stomp.
Download 2 is raw map file of entire area updated in 2016.
Download 3 is old map file of combined grasslands and mcqueen.
------------------------------
1:15,000; 5m contours
PRODUCTION AND REVISIONS:

base map Karl Jarnst c. 1980; field work by Ross Burnett, Tony Byrne 1980-1; rev. Ross Burnett 1986; Bryan Chubb 1999, OCAD Bryan Chubb 1999; rev Bryan chubb 2008; area reflown 2008 and new base map by Stirling Surveys 2010; field survey 2012-13 by Bryan Chubb and Alan Vyse; Alan Vyse 2015
LAND OWNERS:

Crown land to the north and west of McQueen Lake; Nature Conservancy of Canada on East side between Lc du Bois and McQueen and permission needed for major events. SD73 owns McQueen Lake and again permission needed for major events.
MAJOR EVENTS:

2008 Sage Stomp XXIII; 2012 Sage Stomp XXVII,2013 Sage Stomp XXVIII, 2016 Sage Stomp XXXI
---
Map image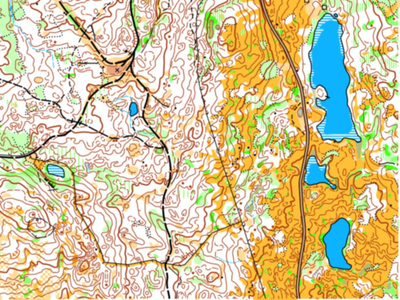 ---
Location