Joyce Gulch Map information
Statistics
| | |
| --- | --- |
| Scale | 1:10,000 |
| Map standard | ISOM2000 |
| Events on map | 0 |
---
Notes
This map is not actively maintained, and SHOULD NOT BE USED IN ITS PRESENT FORM AND LACKS THE SAFETY INFO WE KEEP ON OTHER MAINTAINED MAPS. It needs major updating prior to any use, but landowner permission is unlikely. This should be considered an archived map.

---
1:15,000 (scale stuff is weird, it might be 1:10000); 5m contours
PRODUCTION AND REVISIONS:

base map by Bakken and Helgeson; field work by Ross Burnett, Alan Philip, Jan Samuelsson 1989; revisions Allan Sradeski and Brendan Matthews; conversion to OCAD Allan Stradeski 2002;major changes to vegetation as a result of pine beetle and follow up salvage logging
LAND OWNERS:

private land; majority owner is Frolek Ranches (as of 2016); need permission which is very unlikely to be obtained.
MAJOR EVENTS:

BCOC in 1989? APOC relays 1990; map has not been used for several years becaused of changes to vegetation cover; owner permission unlikely
---
Map image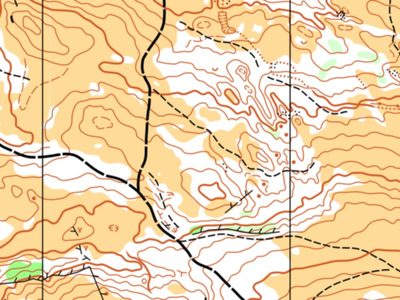 ---
Location