Hamilton Corrals Map information
Statistics
| | |
| --- | --- |
| Scale | 1:15,000 |
| Map standard | ISOM2000 |
| Events on map | 0 |
---
Notes
1:15,000; 5m contours
PRODUCTION AND REVISIONS:

base map by Mike Ackerfeldt; field work by Ross Burnett, Tony Byrne and Colin Hamilton in 1988. Needs vegetation revision.
LAND OWNERS:

Crown Land - several local ranches thought to have grazing rights; Guichons; possibly Douglas Lake; other??
One Small Private Chunk on North Edge of the map. Shown in the map file with a green ski-o line symbol.
DATA AGREEMENTS:
None

MAJOR EVENTS:

early Sage Stomp? C meets
SAFETY BEARING:

Safety Bearing: East to Coalmont Road.

CELL PHONE COVERAGE:

Telus/Koodoo/Public Mobile/Bell/Virgin - Not Tested
Rogers - Not Tested
UNIQUE SAFETY CONCERNS:

Barbed Wire Fences (some ruined through middle of map)
EMERGENCY INFORMATION:

START/PARKING CO-ORDINATES:

PICTURE TAKEN BY SAGE ON MAP:
None taken yet
---
Map image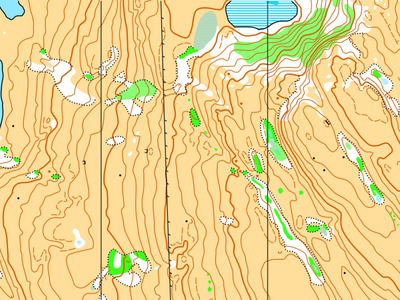 ---
Location