Grasslands Map information
Statistics
| | |
| --- | --- |
| Scale | 1:10,000 |
| Map standard | ISOM2000 |
| Events on map | 4 |
---
Notes
1:10,000; 5m contours
PRODUCTION AND REVISIONS:

base map?; field work by Marian Cotirta and Gabi Costin 1997; revised by Allan Stradeski 1998; converted to ISOM 2016 by Bryan Chubb; fence line revisions by Alan Vyse 2016
LAND OWNERS:

mostly Crown Land and part of Lac du Bois Grasslands Protected Area; need permit from Provincial parks for major events; events restricted to fall because of bird nesting habitat
DATA AGREEMENTS:

None
MAJOR EVENTS:

BCOCs? Numerous Sage C events and night O
UNIQUE SAFETY CONCERNS:

Potential Habitat for Potentially Dangerous Wildlife
EMERGENCY INFORMATION:

FINISH/PARKING CO-ORDINATES:

Various Options - Not Filled in Yet

PICTURE TAKEN BY SAGE ON MAP:
None taken yet.
---
Map image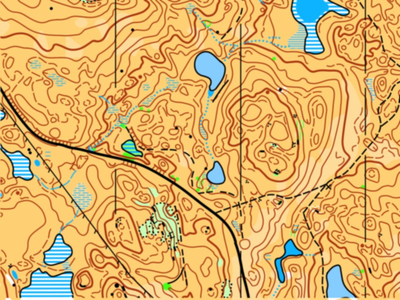 ---
Events on this map
Location