Gardens Creek Map information
Statistics
| | |
| --- | --- |
| Scale | 1:15,000 |
| Map standard | ISOM2000 |
| Events on map | 0 |
---
Notes
1:15000; 5m contours
PRODUCTION AND REVISIONS

5m contours; total area about 10km2 2002-03 Bryan Chubb; expanded and revised 2006-07;

map based on photogrammetry; original map specified 5m contours but complaints after the first event revealed that it was 7.5m

Map was expanded to southern section in 2007 for the WCOC Middle
LAND OWNERSHIP

Gardens Creek Ranch; map is mostly on crown lease; the late Jim Farmer was the contact; now his son
DATA AGREEMENTS:

None
MAJOR EVENTS:

August 2003? COCs with Short and Long events;
Oct 2007 Western Canadian Champs Long and Middle
May 2011 Sage Stomp XXVI with Long Middle and Sprint; Canada Cup and BCOC event
May 2015 Sage Stomp XXX with Long and Rogaine
CELL PHONE COVERAGE:

Telus/Koodoo/Public Mobile/Bell/Virgin - Not Tested.
Rogers - Not Tested
UNIQUE SAFETY CONCERNS:

Potential Habitat for Rattlesnakes
Barbed Wire Fences
Large Cliffs
Cattle
EMERGENCY INFORMATION:

FINISH/PARKING CO-ORDINATES:

Junction of Guichon Creek FSR on Vehicle Track Heading East: 50.731985, -120.832319
Numerous Other options available
PICTURE TAKEN BY SAGE ON MAP:
None taken yet.
---
Map image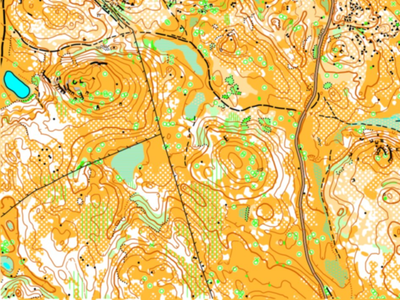 ---
Location