Chartrand Creek Map information
Statistics
| | |
| --- | --- |
| Scale | 1:10,000 |
| Map standard | ISOM2000 |
| Events on map | 0 |
---
Notes
This map is not actively maintained, and LACKS THE SAFETY INFO WE KEEP ON OTHER MAINTAINED MAPS. It should not be used for club events in its current state, and needs safety info added prior to being used.
NOTE (November 2021): Large portions of this map burned in a fire this past summer. Map expected to be a complete loss.

---
1:10,000; 5m contours
PRODUCTION AND REVISIONS:

base map by Helgeson 1994; field work by Mark Adams, Tony Byrne and C. Ivanciuc 1995; Carl Coger 1998; 1995 drawing by Adams, Ivanciuc and 1998 drawing by Allan Philip; used OCAD5; major vegetation changes as a result of pine beetle in 2007 and subsequent salvage harvesting and fire smart vegetation management
LAND OWNERS:

crown land andVillage of Logan Lake
MAJOR EVENTS:

COCs 1998; 6 hour Rogaine ?
---
Map image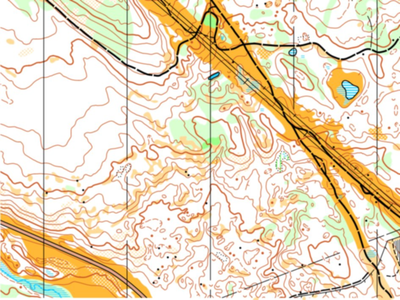 ---
Location