Aspen Grove Map information
Statistics
| | |
| --- | --- |
| Scale | 1:15,000 |
| Map standard | ISOM2000 |
| Events on map | 0 |
---
Notes
Update February 2021 - Vast majority of the crown land portions have been logged in the last couple of years, rendering the map largely unusable.

---
1 to 15000; 5 m contours
PRODUCTION AND REVISIONS:

Base map Bakken and Helgeson; field work in 1990-91 by Carl Coger and Alan Philip; converted to OCAD 8 by Leigh Bailey; revised after beetle salvage logging in 2006 by Margo McTaggart, Alan Vyse and Magnus Johansson
LAND OWNERS:

Crown Land: Majority of Map
Private Land: Some sections on the edge of the map. Added to map in 2020.
DATA AGREEMENTS:
None

MAJOR EVENTS:

Early regular use by GVOC; Sage Stomp XXI 2006
SAFETY BEARING:

Safety Bearing: East to Coalmont Road.

CELL PHONE COVERAGE:

Telus/Koodoo/Public Mobile/Bell/Virgin - Not Tested
Rogers - Not Tested
UNIQUE SAFETY CONCERNS:

EMERGENCY INFORMATION:

Nearest Hospital: Nicola Valley Hospital (Merritt) - has 24/7 Emerg Department. ~50 Minutes once onto Highway.
Nicola Valley Search and Rescue Call 911
RCMP: Call 911
START/PARKING CO-ORDINATES:

PICTURE TAKEN BY SAGE ON MAP:
None taken yet
---
Map image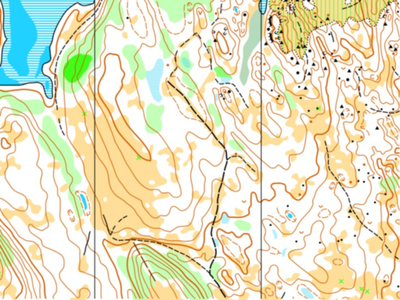 ---
Location