Stake Lake Sprint (ISSOM) Map information
Statistics
| | |
| --- | --- |
| Scale | 1:5,000 |
| Map standard | ISSprOM |
| Events on map | 0 |
---
Notes
Oddly enough, 5m contours. This is the sprint map. Also available are the Foot-O (ISOM) and Ski-O maps.
----------------------------
1:5,000; 5m contours
PRODUCTION AND REVISIONS:

same base as Stake Lake; field checked and redrawn by Bryan Chubb 2008
LAND OWNERS:

Crown Land; permission required from Recreation sites and Trails BC for major events
DATA AGREEMENTS:

None
MAJOR EVENTS:

2008 Sage Stomp XXIII sprint and middle (BCOCs); Sage Stomp XXV 2010 sprint
SAFETY BEARING:

Safety Bearing: West to Lac Le Jeune Road.
CELL PHONE COVERAGE:

Telus/Koodoo/Public Mobile/Bell/Virgin - Not Tested.
Rogers - Not Tested
UNIQUE SAFETY CONCERNS:

Potential Habitat for Bears
EMERGENCY INFORMATION:

FINISH/PARKING CO-ORDINATES:

Main Lodge/Parking Area: 50.517472, -120.481248
Stadium/Grooming Shed Area: 50.511895, -120.481754
PICTURE TAKEN BY SAGE ON MAP:
None taken yet.
---
Map image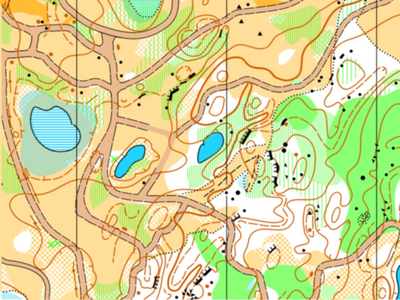 ---
Location