Canoe Creek Map information
Statistics
| | |
| --- | --- |
| Scale | 1:15,000 |
| Map standard | ISOM2017 |
| Events on map | 5 |
---
Notes
Updating in Progress by Phil Wallensteen (April 2023)

5 Meter contours hand traced from City of Salmon Arm. Suggested Print scale of 1:7500 on letter, but map file is 1:15000.

PRODUCTION AND REVISIONS:
Created in 2017 by David Bakker with Open Orienteering Mapper. This is to the ISOM2017 Standard (NOT ISOM2017-2). Updates by Phil Wallensteen in 2023 after major logging on the map. Updated to ISOM2017-2 at this time.

LAND OWNERSHIP:
Crown Provincial ownership in the CSRD (not within City of Salmon Arm). The very north edge of the map is part of the Canoe Creek Golf Course, and courses should be set so as to not encourage trespassing on the golf course unless permission is obtained (in which case the map could also be expanded...). The very southern edge of the map is private. Again, avoid controls in the private property.
DATA AGREEMENTS:

None

MAJOR EVENTS:
None.
SAFETY BEARING:

Safety Bearing: East to Track Under Powerlines

CELL PHONE COVERAGE:

Telus/Koodoo/Public Mobile/Bell/Virgin - Good - all of map believed to have service, but some low points may lack it.
Rogers - Not Tested
UNIQUE SAFETY CONCERNS:

Lots of Deadfall
Wildlife (Bears)
EMERGENCY INFORMATION:

START/PARKING CO-ORDINATES:

Not Filled in Yet

PICTURE TAKEN BY SAGE ON MAP:
None taken yet.
---
Map image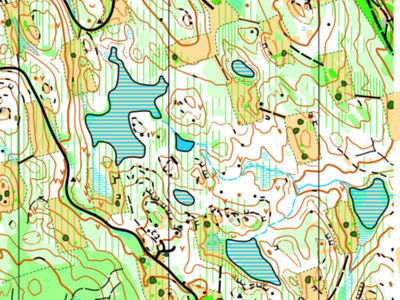 ---
Events on this map
Location