Valleyview Map information
Statistics
| | |
| --- | --- |
| Scale | 1:10,000 |
| Map standard | ISOM2000 |
| Events on map | 5 |
---
Notes
This is the 1:10000 ISOM map. Also available for much of the same area is the Valleyview Sprint Map, to the ISSOM standard at 1:5000.
------------------------------
1:10,000: 5m contours
PRODUCTION AND REVISIONS:

base map by Harvey Map Services 1992?; Field work Martin Pardoe 1993; cartography Alan Philip 1993; revised Alan Vyse 2010; revised Brian and Abbi May 2013, Major Revision David Bakker 2017 with Conversion to OOM (see below)

LAND OWNERS:

City of Kamloops, Valleyview nature Park; Kamloops Bike Park; permission required for major events
MAJOR EVENTS:

C meets?
-------------------------------

Major updates in 2017 to all trails, vegetation, and nearby subdivisions on the edge of the map. No changes to contours whatsoever. Black pits vs. depressions could use some work, but would require a fair bit of fieldwork.

Originally created in ????? by Martin Pardoe and Alan Philip, with minor updates by A. Vyse (2010, 2014), A. May, B. May (2011) and major update by David Bakker in 2017 including conversion to Open Orienteering Mapper.
PREVIOUS VERSION (OCAD):
https://www.dropbox.com/sh/94lsqs3l1ckbugh/AADwogM...

---
Map image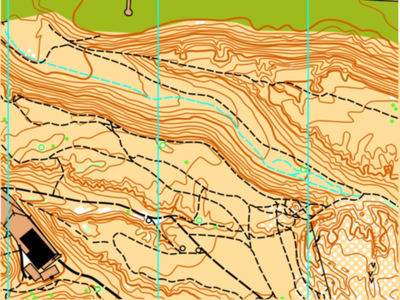 ---
Events on this map
Location