Polson Park Map information
Statistics
| | |
| --- | --- |
| Scale | 1:4,000 |
| Map standard | ISSprOM |
| Events on map | 0 |
---
Notes
5 Meter contours hand traced from City of Vernon, with manually created intermediate contours to create 2.5m interval.

PRODUCTION AND REVISIONS:
Created in 2017 by David Bakker with Open Orienteering Mapper. There are several homeless camps on the map which were not entered by the mapper and have been marked out of bounds. Map will need updating when/if these camps move.

LAND OWNERSHIP:
Northern half of map (north of impassable fence) is City of Vernon Park, while the southern half is more varied. Eastern part of the map is also City of Vernon Park, with some private property on the far south end. The largest building is the hospital, and second largest a care home. Access to the more interestring parts of the care home would require permission, and has been mapped as if permission is not granted. Just to the east of that is Military Land and has been mapped as Forbidden Access and is entirely surrounded by an impassable fence.

DATA AGREEMENTS:

No printed declarations needed.
MAJOR EVENTS:
None.
SAFETY BEARING:

Safety Bearing: North to Major Road

CELL PHONE COVERAGE:

Telus/Koodoo/Public Mobile/Bell/Virgin - Excellent
Rogers - Not Tested
UNIQUE SAFETY CONCERNS:

Litter and High Dangerous/Discarded Needle Potential
Traffic
Entrenched homeless population
EMERGENCY INFORMATION:

FINISH/PARKING CO-ORDINATES:

No set usual location yet.
PICTURE TAKEN BY SAGE ON MAP:
None Taken Yet.
---
Map image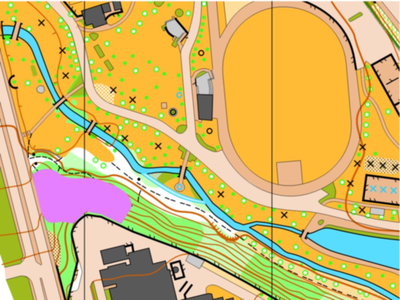 ---
Location