Silver Slope Salmon Arm
June 17th 2020 10:00am - June 28th 2020 6:00pm
Organizers: Brian May (Event Director), Brian May (Course Planner)
Map: Silver Slope
Post-Event
GPS tracks were only uploaded for the advanced course, so only the Advanced Course has results and a 3D-ReRun.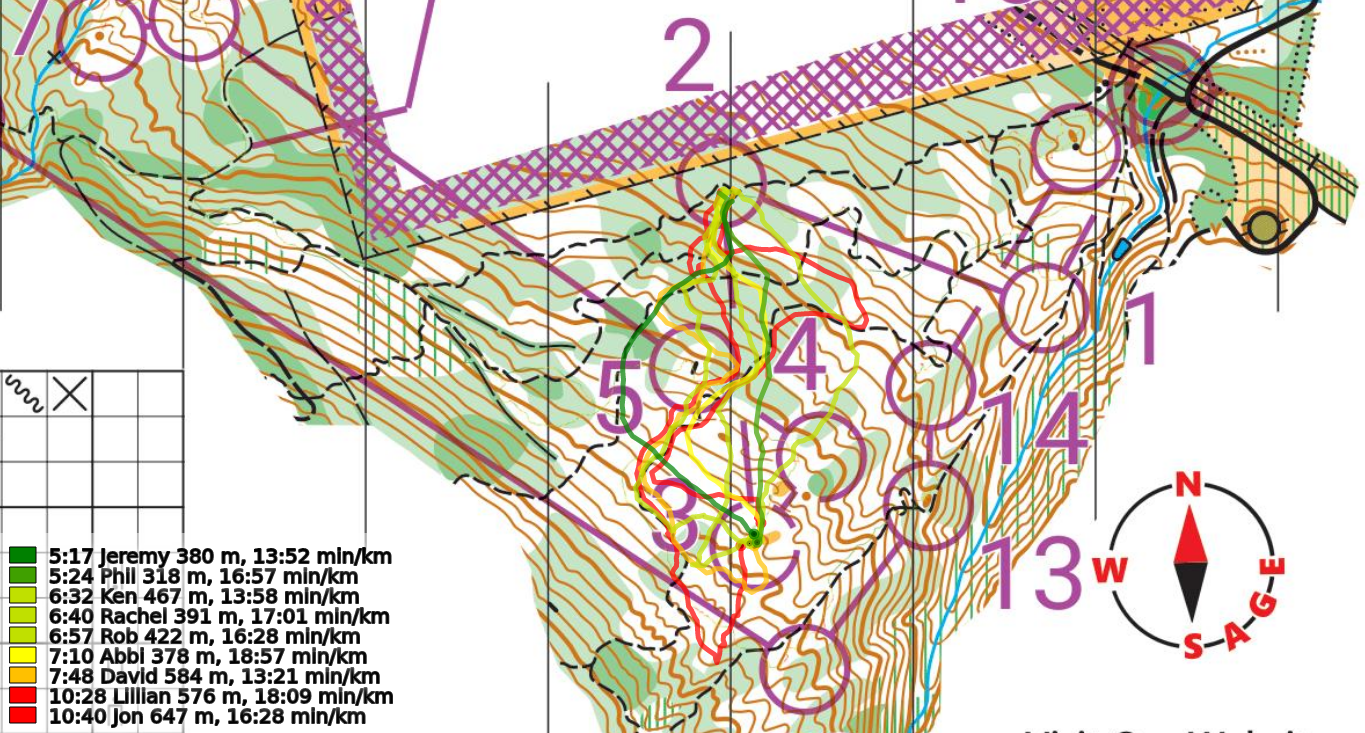 The varying options of the routechoice From 2-3 on the Silver Slope Advanced Course.
Location, Parking, and Map
The Silver Slope map has been expanded to the NW this year and converted into a ISOM2017-2 standard map - so instead of being at a sprint scale of 1:4000, it is now at the more usual 1:10000 for a forest map. The map actually now connects all the way up to the Shuswap Memorial Park map, but courses will not reach down into that area at this event.
The terrain is generally a light green green forest on a fairly steep hillside with limited features. There are lots of dirt biking trails that run through parts of the map, but compared with Haines Creek they get relatively little use and are a fairly well kept secret.
Parking is marked on the map and is at the end of 40th Ave SW at the first switch back up. While the road is a gravel road from where it junctions with Auto Rd., it is easily driveable a 2000 Toyota Camery with no concerns. There is space for around 6 vehicles to park around the switchback, but several of those spaces will likely be occupied by hikers or motorbikers. If you don't have space to park, head back down to the straight part of 40th Ave SW and park along the edge of it - there is lots of space on this little used dead-end road.
Courses
All courses have a lot of climb, so distances have intentionally been kept short. We strongly suggest choosing routechoices that do not sidehill along the steepest slopes. We also suggest heading out on days where the forest is drier, because parts of this forest can be very slippery in the rain.

Beginner: 1.7 km, 130 m of climb. Mostly on trails, but some legs will require off trail navigation cutting between trails.
Intermediate: 2.8 km, 185 m of climb. Like the Intermediate Course at South Canoe South Knoll, this Intermediate is on the challenging end of an intermediate course.
Advanced: 3.8 km, 275 m of climb. Physically and technically very challenging.
Trails Vs. Rides in the Terrain and on the Map

It is very important with this map to know the difference on the map between roads, trails, and rides. Here is the definition of a ride from the official mapping standard.
A forest ride or a prominent trace (forestry extraction track, sandy track, ski track) through the terrain which does not have a distinct runnable path along it. Runnability is shown using a slightly thicker line of yellow, green or white as background. Without outline: the same runnability as the surroundings.
In other words, while a trail is far more runnable than its surroundings and has a defined tread on the ground, a ride does not have a defined tread and its runnability is represented by the colour surrounding it on the map. On the Silver Slope map, used for this event, most of the rides are old forestry tracks that have been cut into the hillside, but now have about 20 year old trees growing on them.

Rides appear on the map as as a thin black line (slightly skinnier than a trail) with longer dashes than as shown below with the various runnability definitions around it.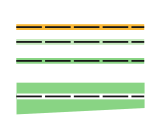 ---
Due to the exceptional global circumstances at the moment, we will not be having our usual events. Instead, we are setting up trainings that can be completed in your own time, any time, over the coming weeks. For all the trainings we will be hanging some flags in the woods for a few weeks, and individually emailing out maps. You print out the pdf to get your own map (or if you are very careful, keep it on your cellphone) to use.
Locations

We are choosing training location very carefully to be locations that tend to have low public use to maximize social distancing, but are relatively close to the city to minimize travel. We will be on forested maps exclusively, and not using any of the park maps in the city that are already over-crowded. We have some new maps in the works, but will also be returning to some previously used ones.
Precautions

Please stay home if you have any symptoms of illness.
Only participate in orienteering activities with individuals from your immediate household.
Stay at least 2 metres away from all other park/wilderness users and do not congregate at the trailheads or control sites.
Do not touch the control(checkpoint) flags – just get within 5m or so.
Walk/run with extreme caution to avoid any injuries.
Cost
These trainings are being offered as a free mental health service to all Sage Orienteering Club members.
How it Works

Register your Sage Orienteering Club membership online on Zone4. Payment and waiver are both online on Zone4 this year.
Once registration opens (it's not open yet!), register for the course of your choice and let us know how many of you are going. We will email you a map individually - so make sure your email address with your WhyJustRun account is accurate.
Run the course whenever you want during the times when the event is open. If you are interested in comparing results & routes with others, record a GPS track on your smartwatch or phone.
(Optional) Upload a .gpx file (you can export this from Strava, Garmin Connect, Attackpoint, and many others) to our website (link will be posted once registration is open) which will calculate your split times. We will also then overlay all the GPS tracks onto the map together so you can compare routechoices with others. We might not be able to gather socially, but we can still talk about or routechoices digitally.
How You Can Help
These events are running entirely on volunteer manpower. We would love some help if you would be willing to pick up controls at a specified times at the end of each event, and handing them on to the next volunteer who will put them out.
---
Location