Sage Stomp
May 16th 2015 12:00pm - May 18th 2015 11:00am
RESULTS
Saturday morning: Registration 11 am
Saturday noon start: Long at Gardens Creek
Saturday evening: 6pm: OABC will hold a Special General Meeting. The sole purpose of the meeting will be to vote on the ByLaws and Constitution. These were approved at the AGM in 2013 but the paperwork was not properly done so this needs to be done again.
6:30pm: banquet Savona community hall
Sunday 10am start: 3 hr score O or 6 hour Rogaine at Gardens Creek
Monday 9:30am start: Forest Sprint at Gardens Creek
Registration: On the day entries possible. Please come
Meet waiver: all participants must sign the meet waiver before starting.
Fees: Registration fee for the weekend (including banquet) is $75 for adults, $35 for juniors; a $5 surcharge will apply after May 6th, up to the 17th. If you register before May 7th, there may be a t-shirt to commemorate the 30th anniversary (this will depend on #'s). You can also enter each event separately: the fee is $25 for adults and $12 for juniors with a $5 late surcharge. Registration will be available on the day of the event for a further additional $5.
SI Cards must be used; they are available at $2 additional charge at the meet site.
Courses and classes: standard courses for O events.See separate page
Banquet: at the Savona Hall 6:30pm Saturday
Results: Available on the Sage website a.s.a.p. after the event.
Accommodation: Kamloops has a wide variety of hotels and motels.You can inspect choices on-line athttp://www.tourismkamloops.com/ , andhttp://www.hellobc.com/en-CA/RegionsCities/ThompsonOkanagan.htm.
Child care: Child care will not be available.
Food: Light refreshments will be available at the finish of the events.
Flora and fauna: There are a lot of deer and bighorn sheep in the area. We haven't seen any bears (yet) but they do tour through this area. The main hazards in most areas of the map are prickly pear cactus and wood ticks. The cactus can be quite painful if imbedded in your leg (or elsewhere) and leg protection is recommended. We made friends with many wood ticks during our exploration of the area although, fortunately, tick season is near its end.
Cattle and Fences: There are lots of cattle (with calves) in the area. Permission to use this area is given on the understanding that participants will do their very best to not spook or disturb these animals in any way. Please leave gates as you find them and when crossing fences pass under the lower wire or between the wires if the strands are loose enough. DO NOT CLIMB ON THE FENCE WIRES.
Event Location: Gardens Creek
The event site is about 40 minutes west of Kamloops on Highway 1. From Kamloops or Vancouver take exit 364 on Hwy 5 and follow Highway 1 West. Entering Savona, turn left off Hwy 1 heading South on Tunkwa Lake Road. Drive up hill for about 4 k, heading south, on the paved road and at about 4k turn west on the Haywood Farmer Road passing the sign for Gardens Creek Ranch.Follow the O signs.
Race details
Long
Date: Saturday May 18th
Event Location: Gardens Creek map; revised 2007
Start: First start will be at noon. Courses close at 3.30pm. No assigned start times.
Map:The map scale is 1:10,000; 1:15,000 for elite; map revised 2010
Indian Gardens Rogaine and Score O
Date: SUNDAY MAY 17th 2015
8:30 – 9:15 am Check in and registration
9:15 am Map issue and briefing for all events
9:30 am 30 minute route planning period
10:00 am Start
1:00 pm Finish for 3 hour Score O
4:00 pm Finish for 6 hour Rogaine
CONTROLS AND SCORING
There will be 45 controls placed for this event. Points will be allotted as follows:
* 25 controls (#71-#95) worth 40 points each
* 15 controls (#96-#110) worth 80 points each
* 5 controls (#111-#115) worth 120 points each
The highest score possible (getting all of the controls) is 2800 points. Within each point category the control numbers are based on the distance from the START area. The higher the control number the farther the control is from the START.
The SPORTident electronic punch system will be used in this event. Because there will be a mass start there will be no start punch but there will be a finish punch.
LATE PENALTY
The late penalty for all events is 10 points per minute or part thereof.
THE MAP
The map is a detailed 1:15,000 orienteering map with 5 m contours. A couple of points to note:
* Water levels are much higher than when this map was made. Many areas shown as marshes are now water filled and most of the ponds and lakes are now larger than shown on the map.
* There are numerous fallen pine beetle killed trees within the map area and this pine beetle kill occurred after the map was made. Please keep this in mind when looking at map vegetation boundaries and tree locations.
REQUIRED EQUIPMENT
Each participant or team must carry: a compass, a watch (or other time telling device), a whistle, a water container (there are no cups at the water stations), and clothing appropriate to the weather. Each participant is responsible for their own safety during this event. In case of emergency use your whistle to signal others (3 short blasts).
Sprint
Date: Monday May 20th
Event Location: Gardens Creek sprint map
Start: First start will be at 9:30 am;Course closes at noon. There will be assigned start times for this event.
Map:The map scale will be 1:5,000; map revised
Timing: The SI system will be used for all events. SI cards are available at registration.
Event staff
Meet director: Jackie Bonn
Course controller: Murray Foubister, Brendan Matthews
LongCourse planner: Alan Vyse
Rogaine planners: Darcy and Steve Lawhead
Sprint planner: Jackie Bonn
Classes and Courses for Sage Stomp XXX
O Events
Long Course

1
2
3
4
5
6
7
Categories
W12 M12
W13-14 M13-14
W15-16 M15-16
W75-79 M80+ W80+
W45-54 W55-64 M65-74

W65-74

M75-79

W17-20 W21-34 W35-44 M45-54 M55-64
M17-20 M21-34 M35-44
Distance
1810
1950
3570
2520
4760
6730
9670
Climb
25
60
120
90
180
245
380
# controls
10
12
14
11
16
16
19
RWT for Long
30
30
50
45-50
45-50
50-60
60-70
Sprint Course

1

2

3

4

5

Categories
W12 M12 W13-14

M13-14

W55-64 W65-74 W75-79 M75-79

W80+

M80+

W45-54 M55-64 M65-74
W15-16 M15-16 W17-20

W21-34E

W35-44

M17-20 M21-34E M35-44

M45-54

RWT for Sprint
10-12
12-15
12-15
12-15
12-15 (15+ for M45)
Rogaine or Score O
6 hour event for Male, Female and Mixed TEAMS of 2+;
Open
Junior:<21
Vets: >39
Super Vets: >54
Well Aged: >64
3 hour Score o event for Individuals only; same classes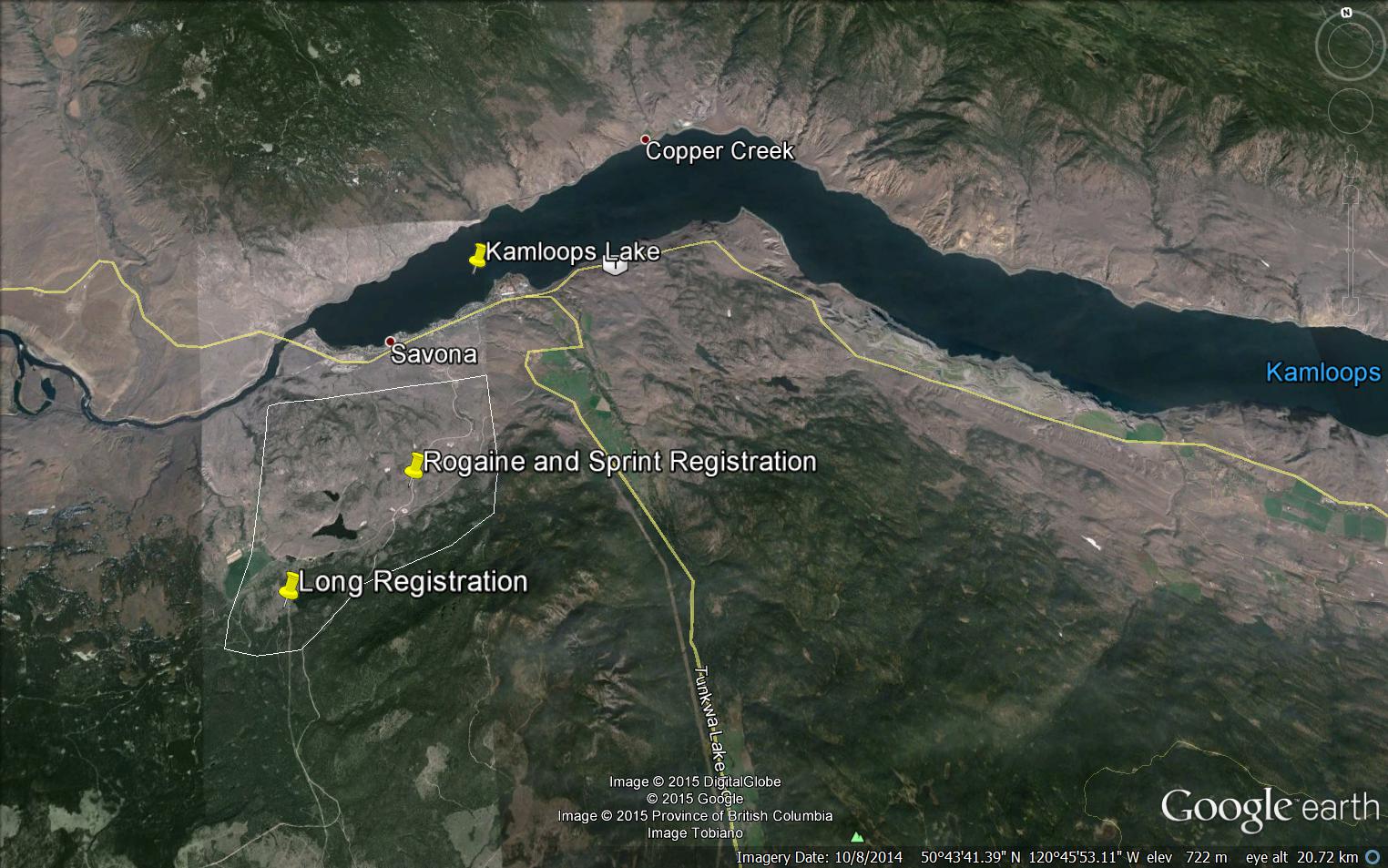 ---
Location